Critical Information Center
On our BSMG website you will now find a comprehensive page that includes updates and important content from us, our carrier partners and others in the industry. It's important that you have access to the most up to date, trusted information from a variety of sources.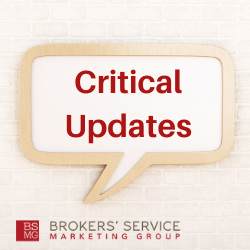 We will continually filter, organize and sort this information for you. We have created grids to summarize key topics across carriers as well.
This page is being updated in real time, every day.
Doing Business Digitally
Quote ➔ App ➔ Policy

BSMG is equipped with e-capabilities including electronic application submission and e-policy delivery which is crucial at this time.
Vive – All of your Term business is 100% paperless. It's easy to quote, compare, and submit a term insurance order in just 5 minutes. Vive automatically provides direct access to each carrier's accelerated underwriting (AU) process – no exams, no blood, and no medical records required. Check it Out