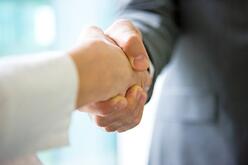 In today's ultra-competitive financial planning marketplace, it takes more than a passion for cold calling and a pristine reputation for financial advisors to acquire new clients.
Now more than ever before, Americans are pressed for time and have problems that need solving. In fact, it's a safe bet that most of your prospects are facing critical life events for the first time and need your help.The tough part is... they might not even know it yet. It's your job to spark interest with your prospects and get them to see that the grass is in fact greener on your side.
When we work with advisors at the POS we have found that these questions help open the eyes of potential clients to their need for planning and protection.
(1) Do you currently have a financial advisor?
We have seen too many missed opportunities because this question was never asked. Did you know that just
28% of Americans
have met with a financial advisor or used an online planning tool?

It's a simple fact; educated consumers who do more than just save their money get ahead, while the others don't. If your prospect answers "no" to this question, you should be well-equipped to school them on the benefits (some great talking points here in this video) of enlisting the help of a professional. If they answer in the affirmative, you may have more work to do.
(2) Do you currently have a financial plan?
A recent CFA study found that 53% of consumers with a comprehensive financial plan felt very confident about managing their money, compared to just 26% of non-planners. Also, as you might expect, there's a very strong correlation between financial planning and being financially prepared for whatever life throws at us. If your prospect doesn't have a financial plan, there's clearly a major opportunity for you to build a relationship with them.
Do they want to be financially successful? Sure they do! The only way to achieve this is by making intelligent financial decisions through savvy planning. Quite simply, if you don't know where you're headed, how can you expect to ever get there?
Start off with some basic fact-finding about their long-term goals. Do they want to purchase a new home or send their children or grandchildren to college someday? Would they like to set aside money for surviving loves ones in the event of their death? Is there a need to reduce any outstanding debt or annual income tax payments? It's going to be really tough to achieve these objectives without a financial plan.
By helping your prospect identify their future aspirations and getting them to look at where they are now with regard to meeting them, you can identify planning gaps that exemplify the importance of having a financial plan. How can the prospect possibly know how much or how long to save in order to meet their goals or measure their financial success without a concrete financial plan in place?
(3) Do you own life insurance? If so, when was the last time you reviewed your existing policies?
If the answer here is "no", your prospect could have a variety of supporting arguments for their decision. Whether they believe they're too sick to qualify, too young and single to need coverage, have enough through work, or not rich enough to afford it, they're wrong! (this article will help you explain why).
If the client has an existing policy... That's fantastic! However, life insurance needs change over time, and many policies that were suitable 5 or more years ago aren't appropriate for your client's current life circumstances. The emergence of more competitive products and changes to your client's health, lifestyle, wealth, family dynamics, home or business ownership can either help them save money or create a need for additional coverage.
A life insurance policy review represents an ideal opportunity to discuss not only the performance of your client's existing coverage, but also changing dynamics that may warrant a fresh look at their entire portfolio. It's quite simply a win-win for the advisor and the client. This can be a tedious and time-consuming process. Don't worry, we went ahead and simplified it for you with our Policy Review Checklist.
(4) What things bother you about your current financial advisor and what could be different about your relationship?
Are they available when you need them?
Do they follow their own financial advice?
Do you have a retirement plan? How about a will?
Can they relate to the financial issues you are currently facing?
If the answer to any of these questions is "no", you could be one step closer to a new client relationship. Of course, that's if you can prove to them that you are a better fit by making time for them and sharing aspects of your own sound financial strategy.
(5) Do you have a plan for retirement? How much should you save annually?
When it comes to retirement, the old adage "fail to plan, plain to fail" has never been so true. If your prospect doesn't have a retirement plan in place, this is a golden opportunity to build a long-term, mutually beneficial relationship with them. Regardless of whether your prospect is in their 20's, 40's or 60's, it's always the right time to plan. Here are a few ways to start the retirement conversation with your prospect:
Do you

have a plan in place to secure your financial future for the next 3 decades?

Are you aware that

the average length of retirement for a married couple is currently around 27 years?

Have you factored in the potential costs associated with unforeseen health problems?
Are you aware that it would take more than $283,000 for a married coupled, age 65 to cover 90% of lifetime health care expenses and are they prepared to do so?
There's also a solid chance that your prospect has some form of retirement plan in place but hasn't maximized their retirement income and asset protection potential. Here's another invaluable chance for you to differentiate yourself with recommendations for life insurance, annuity, and long-term care insurance solutions that help them do just that.
How much should you save annually? Most likely, a lot more than they think. Try these staggering statistics on for size:
It's suggested that at age 35, one should have 1X their annually salary saved. This figure jumps to 5X at 55 and 8X at 67.
75% of Americans nearing retirement in 2010 had less than $30,000 in their retirement accounts.
According to the National Institute on Retirement Security, the median retirement account balance is $3,000 for all working-age households and $12,000 for near-retirement households. That is simply not enough!
41% to 43% of Americans are at risk of running out of money in retirement.
More than half are at risk of not being able to sustain their current standard of living.
The retirement savings question can be a real eye-opener. It's a great way to get your prospect thinking about what they're doing to ensure that they're actually able to retire and stay retired, comfortably.
Not many people want to work until age 90 and even less want to re-enter the workforce after retiring because they couldn't afford not to. Unfortunately, many Americans are woefully unprepared and this is happening with increasing frequency. Life insurance and annuities are great tools for helping bridge your prospect's retirement saving gap. Use them to ease their mind and help ensure that their golden years are truly golden.
(6) Has anyone spoke with you about LTC and/or end-of-life planning?
Unless the prospect has a few hundred thousand dollars to burn, it's a great idea to take a long hard look at Long-Term Care Insurance (LTCi) and life insurance policies with LTC riders. Why pay full price for care when you can transfer the risk to an insurance company for pennies on the dollar?
Does your prospect realize that by leveraging these solutions, less than .5% of their annual net worth can protect the other 99.5%? By taking the time to both understand and effectively communicate the benefits of these LTC solutions, you further separate yourself from the pack by protecting the client from unnecessary risk.
(7) Have you been counseled on setting up a college plan? How about a will, trust, or health care proxy?
Here are a few more ways to open the door to fruitful conversations with potential clients. Remember, once a client works with you on one of these items, the more likely they'll be to trust you with larger, more lucrative endeavors.
Urge the prospect to think about their family and loved ones. The burden on them should anything happen to the prospect would be hard enough, forget about the added worry of making decisions on the prospect's behalf without understanding what their wishes are. A few questions to get this conversation moving include:
Did you know that the cost of higher education has surged by more than 75% in some states over the past few years? If this trend continues, will you're children or grandchildren be able to go to college if someone doesn't plan ahead for them?
If you have children who are minors, who would take custody of them if something were to happen to you?
Do you have a plan in place for medical care should you become unexpectedly incapacitated?
Who would manage your financial affairs if you were unable to?
For the prospects that answer "yes" here, find out when the last time these documents were reviewed. Relationships change over time and nominees who were a good fit in the past might not be today. Helping uncover areas that require change is a great way to deepen your relationship with potential clients and help entrench your position as a trusted advisor.