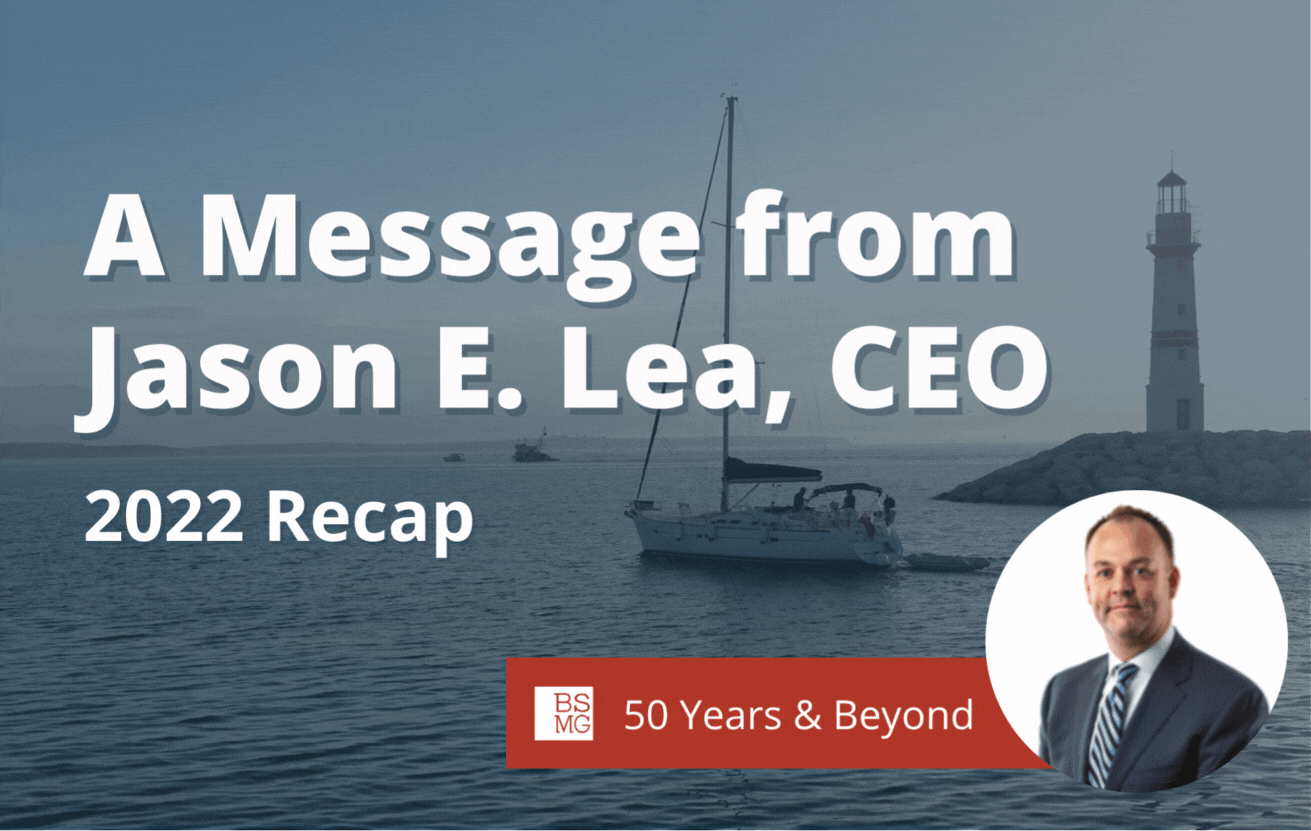 As we near the end of 2022 –we have a lot to be thankful for at BSMG. 2022 has been challenging, a little hectic and rewarding!
Let's take a minute to look back….
2021 was our best year ever and I'm pleased to report that thanks to you, our staff, our carrier and vendor partners we did it again! 2022 will be our best year ever…thank you, thank you, thank you.
Annuity business is booming and we are hiring into this growth as fast as we can. We also made our first BGA acquisition on December 1st for HUB/SPG – acquiring Business Underwriter Associates (BUA) from Akron, OH.
This year we celebrated our 50th year in business, and as I look back at what we have accomplished over the years, and I'm filled with gratitude. We have come quite a long way and, yet some in ways, we are just getting started. Here's a fun video celebrating our 50th anniversary: BSMG - 50 Years and Beyond.
Our history is defined by a great team of people that over the decades and generations have passed forward the legacy of always putting the customer in the best possible position, serving with excellence and humility every day, and having a passion for what we do. Together, we continue to build durable relationships based on mutual respect and the delivery of unique value. We're very fortunate to work with terrific advisors at the top of their profession all over the country. Together, we do the very best we can for each other and it just flat out works. Our Carrier partners, our team here at BSMG, and you, our clients.
This year at our annual charity event we hit an amazing milestone - $1 Million raised since inception. An amazing accomplishment thanks to our sponsors and generous attendees. I know that our founder (Dad), David B. Lea, Jr. would be so proud.
Dad always instilled in us that we need to take the time to help others in our community who are not as fortunate as we are – and our two great causes, Amos House and Day One are amazing in lifting our community members who need help the most. Dad also instilled in us the importance of gratitude and kindness in our every day lives.
As we reflect on the past year and look ahead to 2023, we're both grateful for all that you have given us in 2022 and full of hope and excitement for a fantastic year ahead. Each year is new opportunity to grow, achieve and give back, and to leave this world we live in a little better off. Let's make 2023 another incredible year.
On behalf of the Entire BSMG family, we wish you a Very Happy Holiday Season and New Year.
Warmest Personal Regards,
Jason
---