Founded by David B. Lea in 1972, Brokers' Service Marketing Group has spent the last 50 years serving
financial professionals and their clients and graciously giving back to the community.

In celebration of this noteworthy milestone, we're looking back to some of the circumstances and
people who made BSMG the company it is today.
---
21ST ANNUAL CHARITY INVITATIONAL
Thank you for celebrating with us!



Established in 2001, BSMG's Annual Charity Invitational was created and introduced to enhance our community by bringing all key relationships together, including our brokers, carriers, sponsors, and employees. This event allows BSMG to say thank you, and provide meaningful business content along with a fun activity and golf experience, all while supporting local charities.

This year, BSMG surpassed our goal and raised over $100,000 for local charities, including Day One, Amos House, and The Outreach Program. This means that BSMG has raised over $1 Million total for local charities!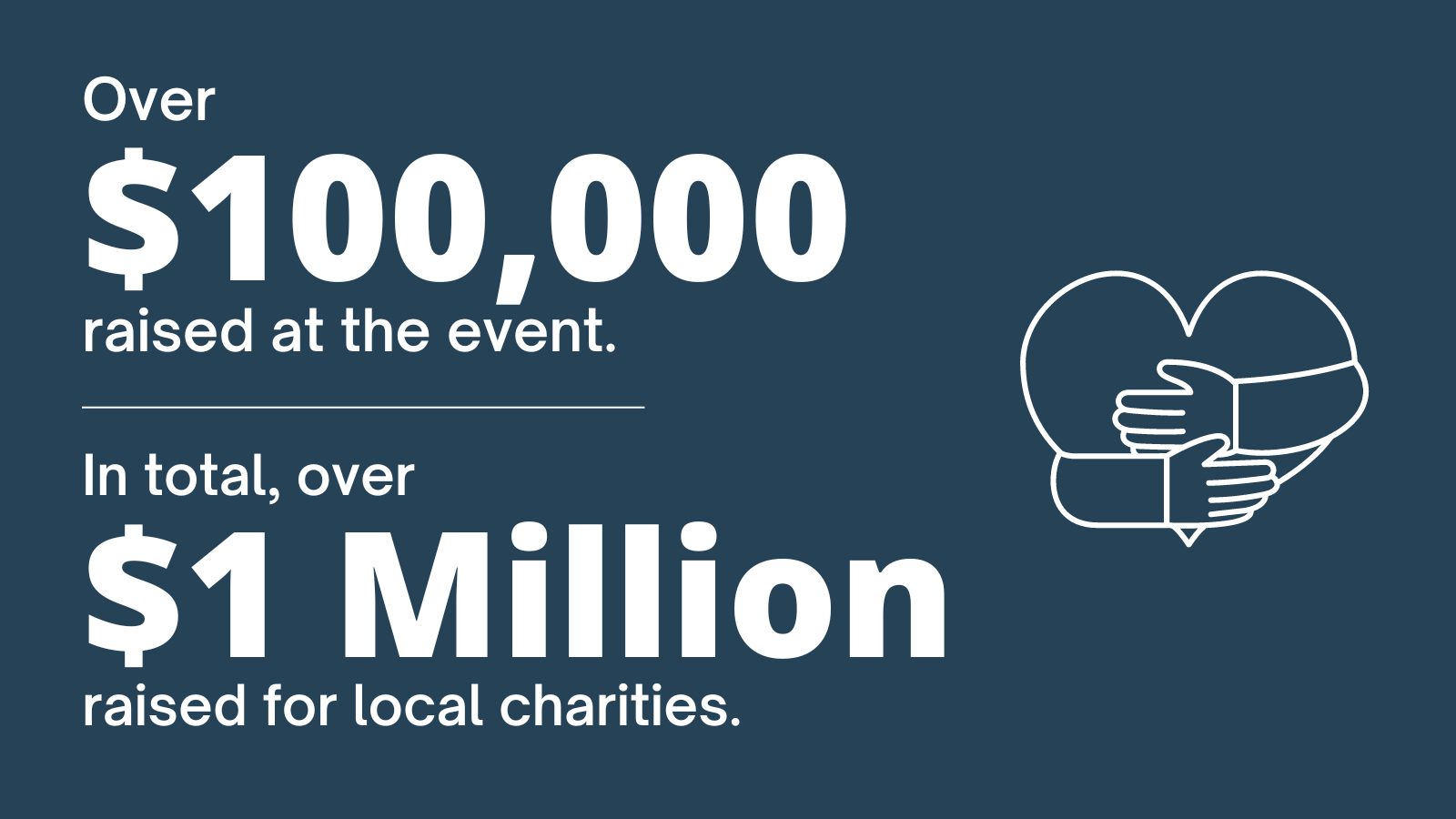 BSMG believes in the good that The Outreach Program, Day One, and Amos House do for the surrounding community. And as a show of that support, we will be matching all donations from our Charity Invitational – making the total donation this year over $200,000.
Speaking of Amos House – in addition to the funds raised at our Charity Invitational, BSMG is proud to partner with Amos House for their meal packing event. This year, we were able to hit our goal of feeding close to 60,000 individuals in Ukraine (see below)!
Interested in volunteering with future BSMG charitable events? Please reach out and we're more than happy to accommodate the extra hands!
---
21ST ANNUAL CHARITY INVITATIONAL
Event Highlights

Bobby Samuelson
The Future of Indexing: Life and Annuity Product Innovation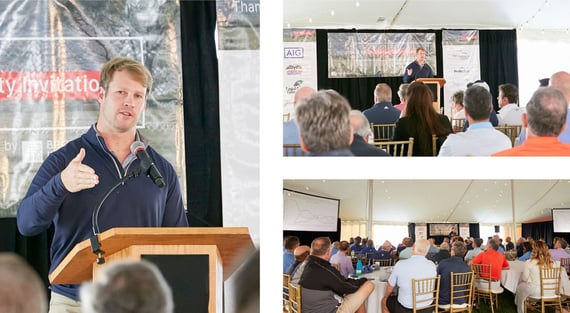 Bobby is the Executive Editor of The Life Product Review, the industry's best source for independent and objective life insurance product intelligence. He is also the President of Life Innovators, an independent product development firm helping life insurers create, implement and distribute unique and differentiated life insurance and annuity products.
" In our industry there is knowledge and then there is expertise. Bobby Samuelson proved once again at this year's event why he falls in the latter category. His review of what is going on in the industry was invaluable to the attendees at this year's event, and regardless of what sector of life insurance you're in, you will walk away smarter after having heard him speak. BSMG continues to bring the very best and the very brightest together to learn what is happening and map out where the future leads. "
" I've seen Bobby Samuelson speak many times over the years, and he never disappoints. His product knowledge, carrier insights, and overall industry expertise are always informative and very useful. Having access to him on a regular basis is truly an advantage for
BSMG. "
Kenneth J. "Ken" Kies & Armstrong "Army" Robinson
Elections Have Consequences: Tax & Regulatory Possibilities for You and Your Clients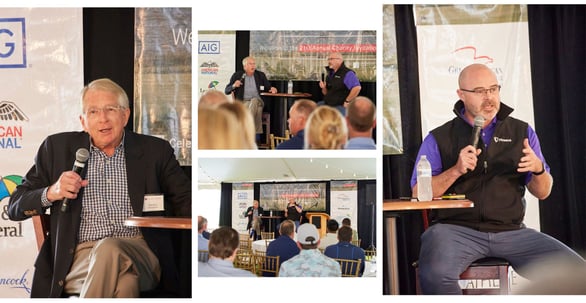 Ken is Managing Director of the Federal Policy Group, LLC, which provides sophisticated strategic and technical tax advice on tax policy matters before Congress, the U.S. Treasury Department, the Internal Revenue Service, and the OECD. Mr. Kies has delivered significant legislative and regulatory results for his clients, which include major corporations, trade associations, and coalitions of companies with common objectives.
Army is a passionate advocate for the financial security profession whose members work every day to deliver holistic financial security for their clients. He leads Finseca's team of extraordinary people in the Government Affairs Department.
" Army Robinson and Ken Kies were very informative and engaging. To have these two speakers at our event to share their thoughts on the markets, the industry, and what is happening in Washington D.C. and how it may affect our industry is invaluable. They are truly experts in their fields, and the material and topics were not only informative but very relevant and timely. "
---

The David B Lea Award was established to recognize people that made a difference in our business. It is not about the top selling broker, but more importantly about someone who strongly contributed to our business and who conducts themselves in a manner that demonstrates integrity, client focus, community involvement, and is respectful to both the BSMG staff, and their own staff. We feel these characteristics reflect BSMG's founder David B Lea, someone who was held in high regard both professionally and personally. This year, we presented two David B. Lea awards!
2022 Award Winners
Diane Petitta
Voya Financial Advisor

Diane maintains a level of excellence only the best of the best can achieve. She can take the most complex financial planning techniques and break them down to a relatable level for their clients. For example, instead of spouting alpha's, beta's, and r-squared's, she simply asks her clients "what's your comfort level with the market these days". This straightforward question gets a client to open up about what they really want their money to do. This would explain why Diane has been a 29-year qualifier for Voya's honors club!
What really makes Diane special is how much fun she has doing it all. She is the creative mind behind the BSMG cheer that rings out at each and every gathering. Her inner circle is full of nicknames. Her wonderful husband Joe is lovingly referred to as Joey Tomato. Her assistants have been known as the delicate bud and the hammer. Of course, she also has a nickname - "The Delicate Flower".

Diane Hoover
BSMG Case Manager, 40 Years of Service

Diane works side by side with Ron, Dana, Julie, and Greg to manage many of our long-standing relationships in which Diane has become part of the broker's extended team. Brian Nixon a past Dave B Lea award winner says: "Diane is the best, I love Diane as a person and as a teammate. Her can-do attitude makes me feel extremely confident every time we are working on a case together. I have never heard Diane complain, I appreciate her work ethic beyond words. Diane is simply the best."
Diane's new business team members describe her as incredibly reliable, trustworthy, professional, and knowledgeable to the point where some go to Diane for the answer before they reach out to the carrier, because "Diane always has the answer." They see her as warm and friendly and always available to walk through a challenging scenario
Past Award Winners
Fred Corbett
Arthur Schechner
Mel Senesi
Dennis Kay
Joe Blum
Michael Schechner
Bob Davis
Alan Zartarian
Richard Dunsmore

Steve Cristofori
Jeff Brier
Tim McCahan
Brian Nixon
John Daniel
Brad Little
Capital Wealth Management
Paul Sepe
David Greenberg
---