Trusts are not exclusively for the ultra-affluent. They can play a vital role in outcomes-based planning for many individuals. Behind the accumulation of wealth lie personal objectives and values as unique to your clients as their fingerprints. Whether their goal is to fund a comfortable retirement, take care of children or grandchildren or make a meaningful social impact, trusts can play a valuable role in helping them to achieve those objectives.
Advanced Planning: Grantor Trusts & the "Power of Substitution"
As important planning tools, trusts can offer your clients asset control, legacy protection, financial privacy, probate avoidance, and estate tax mitigation.
Control — A trust allows an individual to dictate when and to whom distributions from the trust may be made.
Legacy Protection — A trust may help protect an individual's wealth from creditors or the spendthrift behavior of beneficiaries.
Privacy — The transfer of trust assets occurs outside the public record, maintaining the privacy of financial affairs.
Probate Savings — Assets passed by operation of a trust avoid the delays and fees associated with probating them through the court.
Estate Tax Savings — Trusts may be used to reduce future estate taxation.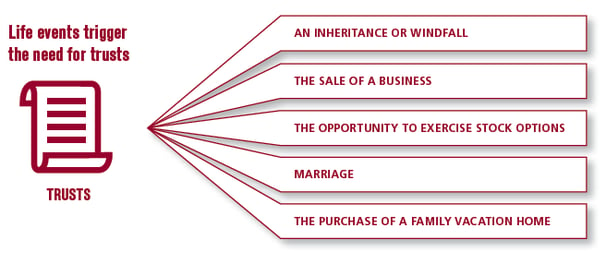 Trusts can serve a wide range of objectives. Summarized below are the more common uses of trusts:
Marital estate planning strategies to protect wealth for married couples and their children.
Marital Trust — shelter assets for a surviving spouse.
Credit Shelter Trust — provide income and asset control to a surviving spouse and a tax-advantaged legacy to a couple's heirs.
Spousal Limited Access Trust — shelter a couple's estate assets while providing income for a spouse.
Family estate planning strategies for tax-efficient wealth transfer - Trusts may also be used to accomplish a variety of estate planning objectives related to family and legacy planning.
QTIP Trust — establish flexibility to minimize future estate tax exposure and legacy control for couples in second marriages.
Generation-Skipping Trust — maximize tax-efficient wealth transfer to grandchildren.
Special Needs Trust — provide sufficient income to the beneficiary without affecting their government benefits.
Related:
Wealth Transfer: Why Advisors Are Missing the Mark
Charitable planning strategies to help clients make the most of their contributions - In addition to caring for family, many individuals wish to leave a legacy for charities that align with their passion and values. Aside from a simple donation of cash or securities, individuals can use trusts to contribute to charities of their choice.
Related: Charitable Remainder Trusts & Wealth Restoration ILITs
Charitable Remainder Trusts — create tax-efficient income for the benefactor and a tax-advantaged endowment.
Charitable Lead Trust (CLT) — minimize current tax exposure with a gifting strategy that creates a legacy for the donor's heirs.