On Monday, May 1st, Russell E. Towers, JD, CLU, ChFC was presented with a Lifetime Achievement Award from the Rhode Island Estate Planning Council.
The Estate Planning Council of Rhode Island's Lifetime Achievement Award is given to a current or previous member who has excelled in his or her respective field and demonstrated professional leadership and service to their community.

Russ joined Brokers' Service Marketing Group in 2002 as Vice President of Business & Estate Planning. Prior to joining Brokers' Service, Russ served in a number of advanced planning attorney positions with John Hancock Life Insurance Company for 22 years. A graduate of the University of Notre Dame with a B.A. in economics, he received his Juris Doctor (JD) from Suffolk University Law School. Russ has delivered advanced planning seminars to life insurance professionals and has lectured to Society of Financial Service Professional Chapters, Estate Planning Councils, Financial Planning Associations, and Attorney and CPA professional groups across the U.S.
Read More: BSMG Packages 32,000 Meals for Local RI Charity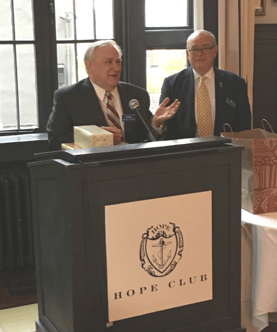 His area of expertise is estate, business, and retirement planning for wealthy business owners, executives, and professionals, and he provides customized case consultation for advanced legal, tax, and insurance plan designs. An author of numerous articles for industry publications, including AALU Quarterly, Broker World, and Insurance News Net, Russ was the recipient of a Kenneth Black, Jr. Award from the Journal of Financial Service Professionals for his article on private split dollar funding of irrevocable trusts in 2008.
Russ received his CLU/ChFC designations from the American College and is a member of the National and Rhode Island Societies of Financial Service Professionals (SFSP) and has served as President of the Rhode Island Chapter. A member of the Rhode Island Bar Association for over 38 years, Russ was also a member of the Association for Advanced Life Underwriting (AALU), the National and Rhode Island Associations of Insurance and Financial Advisors (NAIFA), and the Rhode Island and Boston Estate Planning Councils.