Is No Exam Life Insurance Right for Your Client?
Agents across the nation are seeing a rapidly growing trend of families requesting no medical exam life insurance products. It isn't for everyone, but it certainly has its place.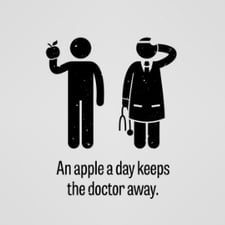 For instance, you bring up the importance of life insurance for your client's family security, but they have some concerns about having to undergo a medical exam. This should be an indication that a Simplified Issue Life Insurance policy may be up for discussion. Whether or not this no exam life insurance option is right for your client depends on your client's needs, age, health, and buyer profile.
With the new "no-exam" programs coming to market, your healthy clients can now get the protection they need at generally the same price as traditionally underwritten products.
What are the indicators, you ask? Don't worry; we've got you covered. Here's what you, the advisor, should look for from your clients…
Related:
Become a "Master" of the Term Life Insurance Marketplace
Who Typically Buys Life Insurance Without a Medical Exam?
No exam life insurance is typically purchased by the following clientele:
Clients who require a smaller amount of life insurance.
For your clients who need less coverage, those that are typically young and/or healthy, the price difference between a simplified issue policy and a fully underwritten policy can be so small that the time and inconvenience of a fully underwritten policy just doesn't make sense.
Clients with "white coat" syndrome.
Some people simply don't like to go to the doctor. The stress of a medical exam, including a poke with a needle during a blood draw, is never fun. In fact, some people think of it as just plain "torture."
Clients who are "just too busy."
Sometimes making time for an exam is not a viable option for your client. They are simply too busy to fit a medical exam into their schedules, although they know they need the coverage.
Clients who require insurance in a hurry.
You may frequently encounter clients who need coverage quickly. There are

a variety of reasons clients may make a request "fast coverage," including the need to secure a business loan or a mortgage, going on a trip, or even court-ordered divorce arrangements. The no-medical-exam options are perfect in these scenarios as policies can be issued in as little as 24 hours.
Here's one product example from Principal, Accelerated Underwriting, with an ideal client profile: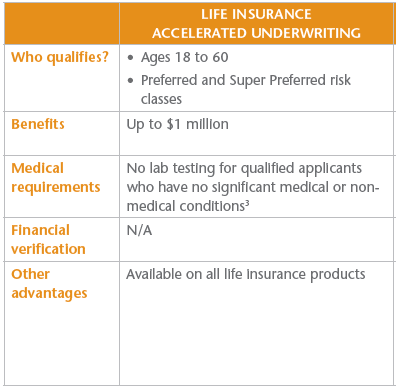 If you've dotted your i's and crossed your t's, and have concluded that a no exam policy is the right fit for your client's needs, then it's time to do your research. Only a handful of life insurance companies offer "no exam" insurance. Of those that do, their policy limits vary by the products they apply to, your client's current age, health history, and income.
For a comparison of simplified issue life insurance programs, from 6 of the nation's leading carriers, download this chart: