Many clients have found themselves with existing whole life insurance policies that are "floating out to sea." This is often the unexpected result of having an overloaned policy due to large cash withdrawals or unintended APLs (Automatic Premium Loans). With the increasing commonality of these scenarios, carriers have begun to implement programs that can offer your client's policy, not just a life raft, but a full-blown rescue mission!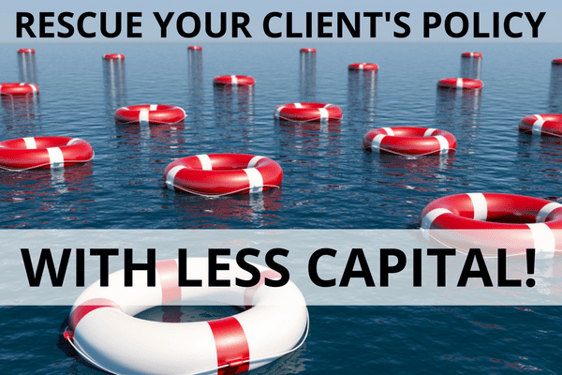 Read More: The Real Dangers of Large Loans on Life Insurance Policies
When reviewing the current position of a highly loaned policy it is important to consider the following:
Projected Underwriting Class
State of Issue
Gross Cash Value or Net Cash Value
Loan Amount
Cost Basis
The Insurance Carrier the 1035 is coming from
Owners Goals (Ideally what would they like the new policy to accomplish?)
Tax bracket for the policy owner
This will help to build the complete picture, which is necessary, to embark upon the loan rescue process. Maybe you have come to this step by evaluating your client's policies through a traditional policy review and concluded that your client is in for a significant taxable event if they don't take action NOW. Or, maybe you found that the only way they could keep the policy alive is by injecting some additional cash?
By consulting with an expert, like BSMG, you can now put a loan rescue program to work for your clients and move them to a better position. Depending on the client's situation, there may be no "out of pocket" expenses required to transfer their policy. Transforming your clients position from a whole life insurance into a modern and more effective policy has these key benefits:
Eliminate immediate (often catastrophic) tax event
Offer a potential solution for lifetime protection
Lower interest rates and provide a more efficient policy
Read More: Client Tips for Life Insurance Policy Reviews
How can you go about finding the best loan rescue options for your overloaned clients? The best practice for handling these complicated year end cases is to consult a BGA and involve a carrier expert to assist with policy illustrations. You will need to verify important policy information, such as the policy's cost basis, loan amount and net cash value. A BSMG expert can assist in establishing the minimum amount of capital needed to revive and transfer an overloaned policy, as well as the modest policy commitment to pay down the loan and keep healthy in force coverage. They will also ensure the death benefit remains within the guidelines of the definition of life insurance in Section 7702. Get informed and bring your clients the most competitive loan rescue options available. Remember this could be the biggest sales opportunity you hear about this year and the only chance that your client has to do something to save their policy and avoid a taxable event!
Join the Loan Rescue Webinar on Wednesday, September 28th at 12pm Eastern time to learn more.