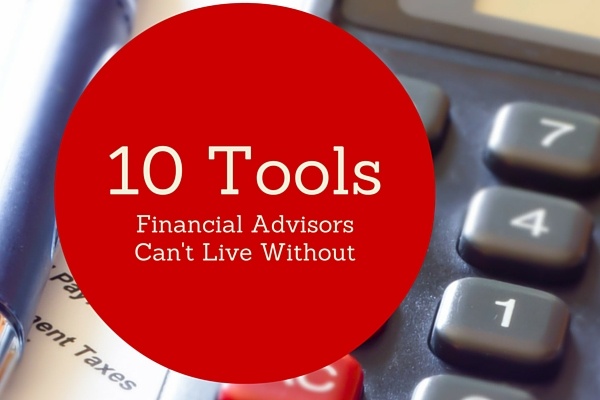 Technology is constantly changing and evolving, just when you think you have figured something out there is a new upgrade or add-on that will make it even better. Now more than ever it is crucial for financial advisors to utilize and understand the tools available to them. So, to help you along the way BSMG has compiled 10 of the top tools that successful financial advisors and insurance professionals simply can't live without.

10 Financial Advisor Tools You Should Get Now
Here are 10 of the best tools available for independent financial advisors:
Hootsuite is a social media tool that allows you to post and respond to all of your social media accounts from one central location. It also gives you the ability to monitor all of your account activity.

Read:

Top 5 Financial Advisor Marketing Tips


Investor Watch Dog of Paladin Research and Registry will rate an advisor according to experience, education, certifications and other proprietary criteria. If you pass the screening, you are eligible for a spot on the 5 star registry. This allows for great exposure to potential clients and can be an invaluable part of your prospecting efforts.


Dropbox is a cloud based back up system that allows you to access and share important information from anywhere. Quickly share product marketing pieces with clients, manage case files or simply keep a backup of your PC.


Financial Planning Software- NestEgg Estimator is a retirement tool that projects the client's finances into the future and breaks them down into income, taxes, assets and debt. Show clients the impact of guaranteeing retirement income or the loss of a breadwinner by simply manipulating your entries.


Power Presenter is a unique remote presentation tool for out of office client meetings right from your Ipad.


Facebook can be a helpful tool when it comes to growing and maintaining your pipeline. It gives you a better insight into who someone is and what is going on in their life. It also allows clients to get to know you

, eliminating the "cold lead".




Linkedin also grants you better insight into someone's life but on a professional level. Having a connection in common with a potential client can be just what you need to seal the deal. Also, Linkedin is a great place to list your company to improve searchability online for your business.


RMD Calculator can calculate your clients projected required minimum distributions with just a few clicks.


Online Term Life Insurance Quotes- Vive is an online platform that allows you to quote & submit term life insurance applications online with no paperwork. Saving you hours of time and increasing your profitability.


Goal Tracking Watch the video below to see how important goal tracking can be to achieving success with life insurance and annuity sales. Vicki Gunvalson shares her white boarding approach.

"Technology is redefining the way financial advisors do their jobs today. Finding and utilizing the latest tools is essential to creating and maintaining relationships and maximizing productivity." -Investopedia
Read: 5 Key Facts Reveal Why Advisors Should Focus on Affluent Millenials