We've heard a lot about the DOL's recent fiduciary ruling over the last few months. In fact, we just hosted a webinar on how this ruling will affect the life insurance industry and the sale of life insurance products (check back for a recording later this week). So what about annuities? How will annuity sales be affected by the DOL's strict ruling? InvestmentNews recently published an article that projects indexed annuity sales will fall 30% due to the ruling. Read below to find out why.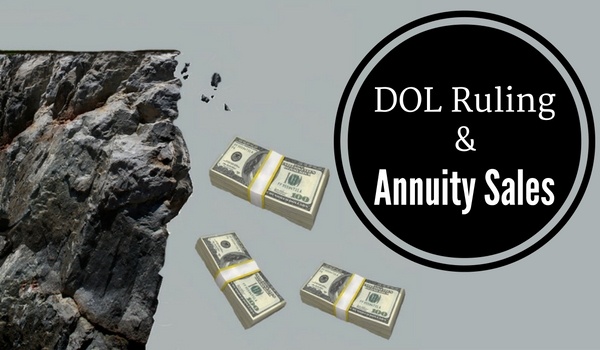 Read More: [Video Blog] DOL Ruling Jeff Bush
If you have seen the DOL's recent video, you've seen their stance on conflict of interest. The video proposes that financial advisors, while being compared to lawyers and doctors, cannot always be trusted. Although we know that this may not true, the general public has been left to form their own conclusions.
The regulation is addressing investment advice for retirement planning, which is thought to directly impact variable and indexed annuity sales. LIMRA estimates that fixed indexed annuities will exceed $60 Billion in sales this year, yet also expects sales to drop to $40 Billion by next year.
"Economic conditions have helped fixed indexed annuity sales surge in recent years. Low interest rates have depressed yields on vehicles such as CDs, savings accounts and bonds, leading some investors to turn to indexed annuities, which are marketed as products offering principal protection with the potential to participate in stock-market gains.
Further, companies traditionally focused on variable annuities havesuccessfully come to market with indexed annuity products, without detracting from sales of those already in the market" -Todd Giesing, Assistant Research Rirector at the LIMRA Secure Retirement Institute.
The DOL ruling is set to go into effect in April of 2017. Once it does, the industry will need to quickly comply with these strict rules that may potentially cause a decline in sales. With the ruling in effect anyone who is providing investment advice in retirement planning, for a fee, will be considered a fiduciary. You may be wondering why this would have such a steep impact on indexed annuity sales; well, consider that almost 2/3 of all indexed annuity sales last year were sold in qualified plans.
Read More: The Post DOL World for Annuities
"The original rule proposal gave fixed indexed annuities an out from an enhanced compliance standard, known as the best-interest contract exemption (BICE), to which variable annuities would be subjected, leading to the belief that fixed indexed annuities would serve as a pivot product from variable annuities."
The final ruling did not in fact maintain this element, and both variable and fixed indexed annuities were brought in.
Under the BICE a financial institution must have a contract with each investor that is selling both vairable and fixed indexed annuities on a commission basis, in qualified plans. Ultimately, much of this burden will fall to Broker Dealers and other key industry participants to determine the best way to handle the sales while aiding in their producers in the adhearance to the recent ruling.
"Manufacturers and distributors will have to learn how to operate in this new environment," Mr. Giesing said.
InvestmentNews also reminds us that "several major fixed indexed annuity providers are forging ahead with plans to develop fee-based, advisory products, which could help advisors and their firms avoid some of the more onerous compliance points under the BICE, such as signing of a contract."
The post DOL world continues to be uncertain for our industry as a whole. This ruling will affect the products we sell, the way we do business and the regulations we must adhere to. While we cannot say for certain what the second half of next year will look like, once the ruling goes into effect in April the projections don't look too rosey. We will have to wait and see what the election brings before anyone can be confident in the estimates put out by LIMRA this week.
BSMG will continue to keep you informed throughout the process, as more articles like this one are published, and we hear feedback from our carrier and broker dealer partners.
Read More: The Final DOL Ruling is Here- 3 Key Take Aways