What are you doing to diversify you're business and grow your clients' portfolios? With interest rates continuing to rise, regulatory changes and consumers seeking bundled options and simpler solutions, are you adjusting your sales approach?
Now is the time to add fixed indexed annuities (FIAs) to your arsenal of products. Here's three reasons why: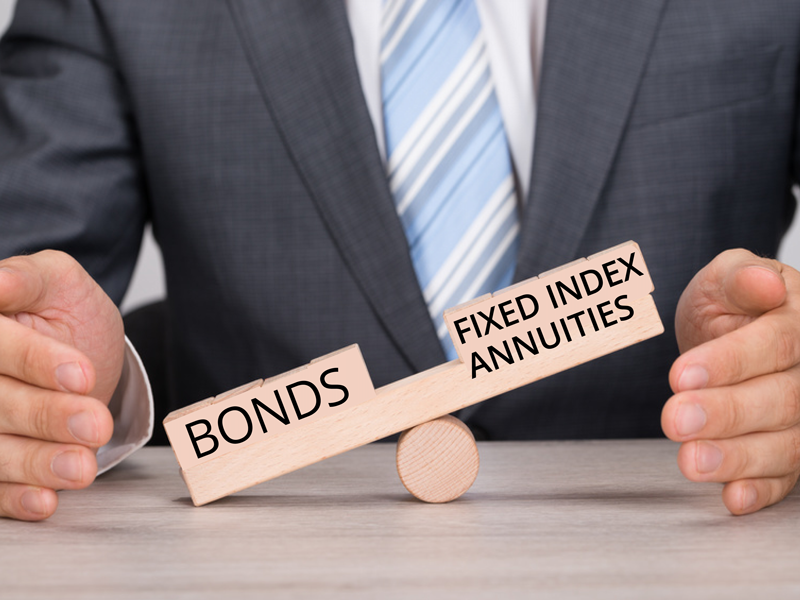 Learn More: Tax Advantages of Annuities
1. Interest Rate & Bond Seesaw
The correlation between interest rates and bond prices continue to sit on opposite sides of a seesaw, with interest rates currently on the higher end. When interest rates rise the value of bonds decline, because the interest paid is less than what investors could receive on a new bond. While this seesaw creates a higher risk for bond owners in a rising interest rate environment, it creates an opportunity for fixed indexed annuity sales. FIAs can combat the potential negative impact of rising interest rates through offering tax-deferred growth, annual penalty-free withdrawals, the opportunity to receive lifetime income, and principal protection.
Communicate with your clients so they fully understand what is on the line for them. The American College conducted a survey in 2014 and found that,
"61% of retirees didn't understand the inverse relationship between interest rates and bond fund values
."
Using the seesaw effect to illustrate the inverse relationship between interest rates and bonds (equity) is a great way to communicate this to your clients and open the door for FIAs.
Get More: The Secret to Combating Longevity Risk with Fixed Indexed Annuities
2. Impact of a DOL Change
With an imminent fiduciary standard looming over the financial services industry, it is the ideal time to start diversifying your product lines. The objective of the DOL rule is to help protect and simplify investment and retirement strategies for clients by requiring advisors to act in their best interest.
It is yet to be determined if January will bring about harsh changes to commission based sales, however product sales diversification can help you offset the impact.
Don't wait until January, start expanding your product knowledge now and becoming an expert in your field so you can undoubtedly offer the best solutions to your clients. Carriers are continually updating products to attract new clients. This includes FIA products, since they boost earning potential while still protecting the principal investment. Keep a look out for more new products as we approach 2018.
3. Client Buyer Behavior
Simpler is better. Does your phone plan include cable and internet? Most likely it does, and if it doesn't you likely still see the appeal in bundling these services. Society is streamlining processes to promote efficiency and ease. Your business should follow suit by providing a full range of services to your clients. If your client brings up indexed annuities you want to be ready to be their one stop shop. Having annuity rate comparisons at your fingertips is a great way to show your clients the benefits of what an FIA can offer. You can also utilize BSMG's product specialists to get side by side comparisons on fixed and fixed indexed or variable and indexed annuities to help you close the sale.
Offering clients multiple products and solutions allows for growth. Frederick Reichheld, a New York Times best-selling author and business strategist, found that by increasing customer retention rates by just 5%, increases profits anywhere from 25-95%. Reach out to your clients to keep them informed on what is happening in our industry and the benefits that fixed indexed annuities have to offer.
Click Here: Get Fixed and Fixed Indexed Rates Weekly to Your Email!
We Want To Hear From You!
Are you talking to your client's about fixed indexed annuities?