Happy St. Patrick's Day! We thought we'd share a great tip to help you reach your own "pot of gold". Establishing and targeting personas is a key tool to grow your business and here's why.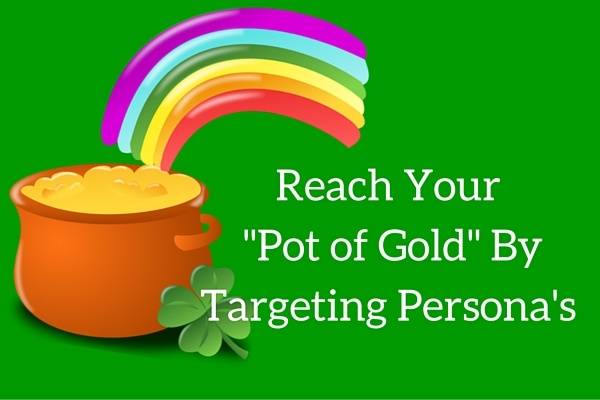 It's important to establish personas for your business so you can make sure you are approaching the right audience and stop pursuing those pesky, time-consuming, dead-end leads. But how do you, a financial professional, start creating personas for your target clients?
So what is a persona anyway?.....
A persona is a clearly defined target customer. In marketing, we like to give our personas a name that is prefaced with a descriptor. For example Grandpa Gary. However, contrary to what many people might think, the name is not where you begin. It is where you end.

When establishing a persona you have to start with the data.

What do you know about your best customers? Do you know their average age, household income, net worth, risk tolerance, retirement horizon, number of grandchildren, personal interests, % of home ownership etc? Once you have this data you are equipt to create your profile, identify your persona and give them a name like our good old "Grandpa Gary." With all of this data you can really begin to picture the person. Gramps is a 75 year old grandfather of 2, with $1 million in assets, 100% ownership of his home who loves to work on old cars and has a high tolerance for risk.
Related: Check out our past blog post on how to identify your sweet spot.
To make your prospecting efforts more effective and productive, it's important to have a clear understanding of what a good customer looks like. Whether you're selling annuities or selling golf clubs, spending more time developing relationships with "qualified buyers" will be more likely to result in your next sale.
To help you get started with building your persona we have compiled some data.
For the purpose of this blog, we'll help you to refine the criteria you use to prospect for the purpose of building your annuity business.
Finding Your Next Qualified Annuity Prospect
Annuity Client Overview:*
The majority of annuity clients are in their 60s and considered in good to excellent health
65% are retired
80% are homeowners
Nearly 75% have more than 10 years of investment experience
Financial Overview:*

62% have a net worth of $250,000 or more
Approximately 70% have a monthly disposable income greater than $2,500
Nearly 50% have more than $50,000 in liquid funds
Top Five Reasons for Purchasing an Annuity*
Safety

Lifetime income

Death benefit

Tax-deferred growth

Growth potential
*From 2010-2014 Great American compiled data on approximately 50,000 IRA and non-qualified fixed and fixed-indexed annuity sales.
Read More: Annuities Facts & Resources
Use These Profiles To Build Your Annuity Sales