Many financial professionals have one thing in common when it comes to the subject of the DOL Fiduciary Regulations: They have a lot of questions. In this post, I've highlighted the questions I hear most frequently, as well as the answers.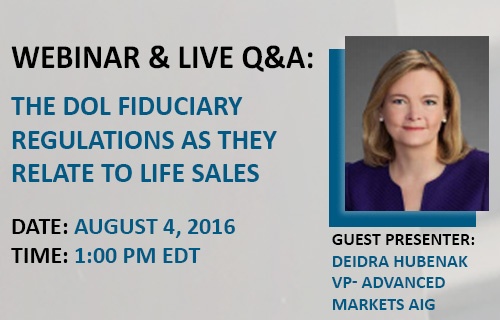 Why did the DOL issue these fiduciary regulations?
The Department of Labor believes that the retirement landscape has changed. Unlike in our parent's generation, retirement plans are no longer defined benefit plans overseen by sophisticated investment advisors. The number of participant-directed 401(k)s and IRAs has dramatically increased. At the same time, the potential investments have become more complex and difficult to understand; the average investor has no way to research an investment professional to determine his or her experience or skill level. Investment advisors can give imprudent and disloyal advice and recommend products that produce the greatest commission for themselves rather than the best investment returns for the investor without penalty. For these reasons, the DOL believed that investment advisors should be held to a fiduciary standard.


When do the DOL fiduciary regulations take effect?
April 10, 2017 is the "applicability date" when the new fiduciary rules take effect.


Do I need to do anything different before then?
You are not required to change the way you conduct business before this date.


What life insurance sales will the DOL fiduciary regulations affect?
The fiduciary regulations will affect life insurance sales in two main areas: 1) life insurance sales within Qualified Plans; and 2) recommendations regarding investing distributions from Qualified Plans or IRAs in life insurance.


Is anybody challenging the DOL fiduciary regulations?
There have been several challenges in Congress, but President Obama has made it clear that he will veto all bills modifying the DOL regulations. Congress does not currently have the votes to overturn his veto before the elections.
As reported in an Investment News Fiduciary Focus article, Rep. Phil Roe has suggested that if Trump is elected, there is a good chance that the DOL fiduciary regulations will be overturned, but if Clinton is elected, the rules are likely to stand.
There have been several cases filed in Federal District Court seeking injunctions to prohibit the regulations from taking effect in April to give the Court time to litigate the issues surrounding the rules. The Plaintiffs in all the cases are seeking to ultimately vacate the regulations on the grounds that they are overstepping the DOL's authority, creating unwarranted burdens and liabilities, undermining the interests of retirement savers, contrary to law, etc. We will continue to monitor these efforts.