As we begin the new year, many advisors are thinking about ways to grow their business in 2017. One proven successful way to do this is through prospecting sales. However, not all strategies are proven equal nor successful. To help you form the best prospecting strategy to add to your arsenal of tools here are the top 5 mistakes that advisors make when prospecting and how you can avoid them.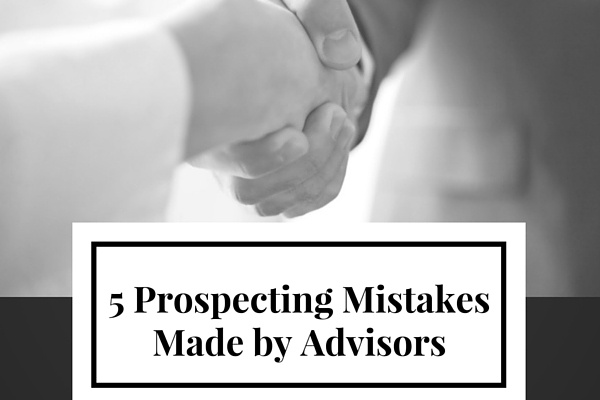 Practicing the old-school "batch and blast" approach.


Many advisors are still using the traditional direct-mail approach; select a ZIP Code and a few bits of information about the target consumer and send a batch of direct mail. Although some advisors claim they are getting a response rate of about 2% for this type of mailing, the relevance continues to decrease and consumers are rapidly losing interest.

While direct mail is still a viable option for some producers, especially when trying to recruit for seminars, many have also taken a similar "batch and blast" approach to their email marketing efforts in order to acquire leads. Although email marketing can save a great deal of money when compared to direct mail, a poorly segmented audience and generic one-size-fits-all messaging could lead to the same problems experienced with direct mail and result in almost zero response.

So how can you target clients? Target niche audiences with relevant content over multiple touch points. Examine your audience. Carve out a niche and identify messages that will resonate with that specific group. Almost all email platforms today allow you to segment lists based on what you know about your target client. Don't just buy a list and send the same message to everyone. Instead, understand who the people on that list are, what they might be interested in and what they want to hear. More importantly, don't expect them to reply to you without giving them some kind of information that they are interested in and would benefit from. Provide the information as a download or something to compel them to enter a small bit of information about themselves. This will make it easier for you to follow up and further engagement. Be sure that the content you're sending them will resonate and solve a problem for them and in turn it will help you to establish yourself as an expert in your field.

Related: Target Your Clients Needs with the Right Permanent Insurance

Not leveraging networks for referrals.


Too often we hear from top advisors that they struggle to penetrate a network where they know there will be high-value clients. When asked what they're doing to expand their reach within the network they often say they're asking for referral business from their existing clients. Although many are extremely successful using this tactic, those that are not make three key mistakes.

The first mistake is not clearly articulating to your existing clients the value you could provide their potential referral. By not clearly articulating your story, your existing client is left to share only their personal experience, which might not strike a chord with the potential referral. Don't ask your potential referral source to do the work for you. Ask them for an introduction with a possible contact and their information so you can reach out to them directly and do the work yourself. All you need is that connection and then you can tell your story.

The second mistake that advisors often make is not giving their existing client base any material to share with a referral network. If your clients are really networked into a specific organization, group or club, give them referral cards or business cards; something they could collect information on the potential new clients and get that information back to you.

The final mistake we often hear is simply not asking for a referral. If you never ask for a referral you're never going to get one. The most successful advisors today grow their business exponentially through referrals alone. They do this successfully by being direct and asking each and every client for a set of names that they can reach out to.

How to Ask for a Referral

The pay-to-play approach.


Just by simply having a life insurance license, your probably being contacted over and over by different companies trying to sell you leads. Some of these programs sound great right? For just pennies per contact, you can get access to hundreds and thousands of leads to send your marketing materials to via email or direct mail. But why pay for leads when there are other sources that will bring in more qualified and quality prospects?

As previously mentioned, highly targeted digital content and client referrals can bring in low-cost/high-return contacts. The only time an advisor should consider buying contact information is if that contact information can be segmented enough to ensure relevant messaging is being sent to the right audience.

Not knowing or not using your niche.


As you know, targeting prospects who will want your information is critical, so how do you determine which segments will make good prospects? The best way is to look at your existing book of business.

Related: 5 Things Financial Advisors Should be Doing to Ensure a Successful 2017

The majority of financial advisors, life insurance professionals and other like industry professionals have heard of the 80/20 rule - 80% of your business is coming from the top 20% of your clients. Look and see what your top 20% are and what has been sold to them. That is your niche and that is what you want 80% of your business and your prospect base to look like.

It takes little work to dig into your existing client base and find out who these people are, what their profile looks like, and what they have in common. You may also what to look and see how you originally acquired them as your client. You don't need a complex database system or business analyst to do this. If these people are truly your best clients, you should be able to name them off the top of your head. Write down a profile of them and within a few hours you'll understand who they are and how they match up against the rest.

Simply relying on prospecting to grow your business.


Advisors are leaving countless dollars on the table by not cross-selling clients or providing a full range of products. Financial advisors tend to rely heavily on annuities for retirement planning, however, have those same advisors talked to their clients about protecting their families or reducing risk using life insurance or having the long term care conversation?

The same goes for professionals who shy away from the life insurance retirement income conversation. They are missing out on the opportunity to grow clients by providing guaranteed income for life using annuities. Creating a complete retirement and risk reduction plan with your clients is key to ensuring that someone else doesn't do it for them.
Learn More: Retirement Planning is Leading to an Increase in Advisor Training Tools