As a follow-up to our other Top Life Insurance Mistakes to Avoid blog, we've compiled 5 additional common mistakes to make sure your clients avoid. Check out these mistakes below and share them with your clients!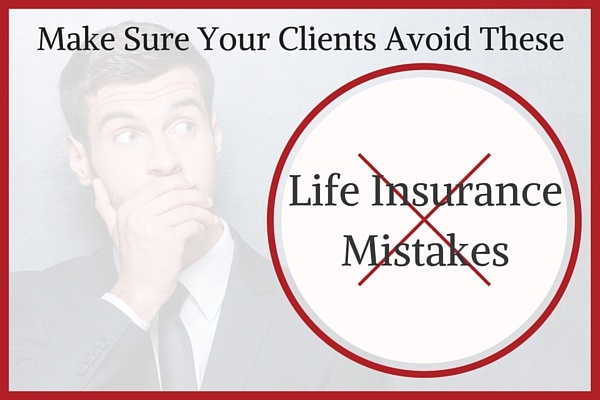 Read More: The other Top Life Insurance Mistakes to Avoid
5 More Life Insurance Mistakes Your Clients Should Avoid
Failure to Meet Notice and Consent Requirements on an Employer-Owned Contract
If a business purchases life insurance on a key employee or owner, the death proceeds on that employer-owned contract, if issued after August 17, 2006, are subject to income tax. Why would a business purchase life insurance? Because, if specific employee notice and consent requirements are me, and certain exceptions apply, a business can continue to receive death proceeds income tax-free. The notice and consent requirements must be met before policy issue. Failing to meet the notice and consent requirements is a big and costly mistake. If the specific notice and consent requirements are not met before policy issue, the only corrective option appears to be reissuing the contract, subject to full underwriting. Consequently, it is important that action be taken before the policy is issued.


Gift of a Policy Subject to a Loan
The gift of a policy with an outstanding loan is a common occurrence. In fact, clients often borrow from a policy before transferring it in order to reduce its value for gift tax purposes. But, as with any technique, too much of a good thing can lead to an undesired tax result. The transfer of a policy subject to a loan, even by gift, is treated as if the policyowner sold the policy and received money equal to the debt deemed forgiven. If the amount of the loan exceeds basis at the time of the transfer, a portion of the death proceeds will be subject to income tax. On the other hand, if the loan is less than the policyowner's basis, the death proceeds will generally be received income tax-free by the beneficiaries. Consequently, the solution is to make sure the loan amount does not exceed policyowner basis at the time of transfer.




Exchanging a Policy Subject to a Loan
For a number of reasons, clients may need to exchange an existing life insurance policy for a new one. Congress recognized that changes do occur and addressed the need by permitting the exchange of one policy for another without any income tax implications at the time of the exchange as long as the requirements contained in Section 1035 of the Internal Revenue Code are met. One of the requirements is that no money or property other than "like-kind" can be received at the time the policy is exchanged. And if it is, income will be recognized to the extent of that other property. Like the prior mistake, when an existing policy has a loan against it, if the new policy does not carry over the old loan, the policyowner is treated as if money is received, and any gain in the contract will be recognized up to the amount of the loan. One solution is to arrange for the new policy to be subject to the existing policy loan. In circumstances where that cannot be done, the policyowner should use funds independent of the policy to pay off the loan on the old policy before the exchange.


Taking Policy Withdrawals Within the First 15 Years
Two characteristics of life insurance allow it to serve as an efficient retirement income supplement: 1) Cash value build-up is not subject to income tax. 2) Cash values can be withdrawn (to the extent of basis) or borrowed, free of income taxation.

It is important for clients to understand that withdrawing or borrowing cash values may cause a decrease in the policy's death benefit. To prevent abuses of the tax-favored treatment of life insurance, Congress enacted provisions in the Internal Revenue Code sometimes referred to as the "cash-rich rules." In general, the rules affect policies with large premiums relative to the death benefits that are issued or exchanged after 1984. According to the cash-rich rules, any time there is a cash distribution from a policy that results in a reduction of the death benefit within the policy's first 15 years, there is the possibility that some portion of the distribution will be subject to income tax. There are many ways to avoid the adverse income tax consequences of a "cash-rich" policy. One simple solution is to either wait until year 16 before taking a withdrawal, or structure the distribution as a loan.

Read More: What Every Advisor Should Know About Policy Review


Failure to do Policy Review
Changes in a clients life is a reason for considering the exchange of an existing insurance policy. Not all change requires a new policy, but it is an important reason for reviewing existing policies. Generally speaking, it is a good idea to review policies every two years, as well as whenever circumstances change or if an event occurs that would warrant an immediate review.

Discuss these 5 costly mistakes with your clients to make sure that they are avoided. Some of these topics may seem to be a bit advance, however, if you look back at our first 6 mistakes to avoid you'll notice that number 1 is simply a lack of education. Making sure your clients understand everything about their policies is the key to long lasting client relationships.


Read More: LIRP: Protecting Your Clients Future With Permanent Life