Diversity in the workforce has successfully fueled innovation across all industries. It brings new thinking to the table that can lead to innovative solutions for your business and for your customers. As members of the insurance industry, we have to get creative and find ways to not only attract a diverse workforce but to make sure all levels of that workforce are involved in innovation and change.

In a survey conducted last month at IICF's June 2015 Women in Insurance Global Conference - which hosted 650 industry professionals from over 30 states and nine countries - over 300 attendees were polled about gender equality in the insurance industry.
When asked, "Which of the following is the greatest challenge women face in ascending to positions of leadership within the insurance industry today?":
35% of Respondents Indicated Limited Opportunites & Mobility Up the Corporate Ladder &
32% Feel That Women Do Not Promote Themselves Effectively or Enough
Regardless of the proven success and innovation that diversity in the workplace has driven, a shocking 52% of women in the insurance industry say they still feel that gender equality is a significant concern.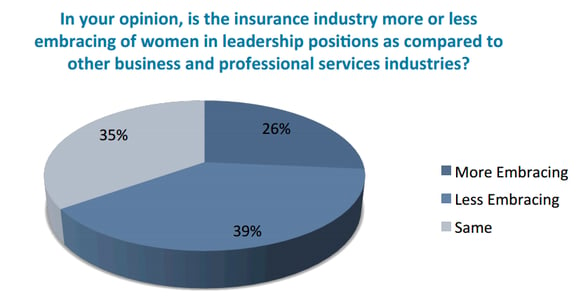 Source: View PDF
On a more positive note, 44% of these women felt that their company was actively promoting gender diversity and
Three Out Of 4 Women See Insurance Industry Making Strides For Gender Equality.
"While there is still progress to be made toward achieving gender equality, the vast majority of survey respondents who have found a positive shift in corporate culture is certainly telling of the strides the insurance industry has made thus far," said Bill Ross, CEO of IICF.
To see the full survey click here.