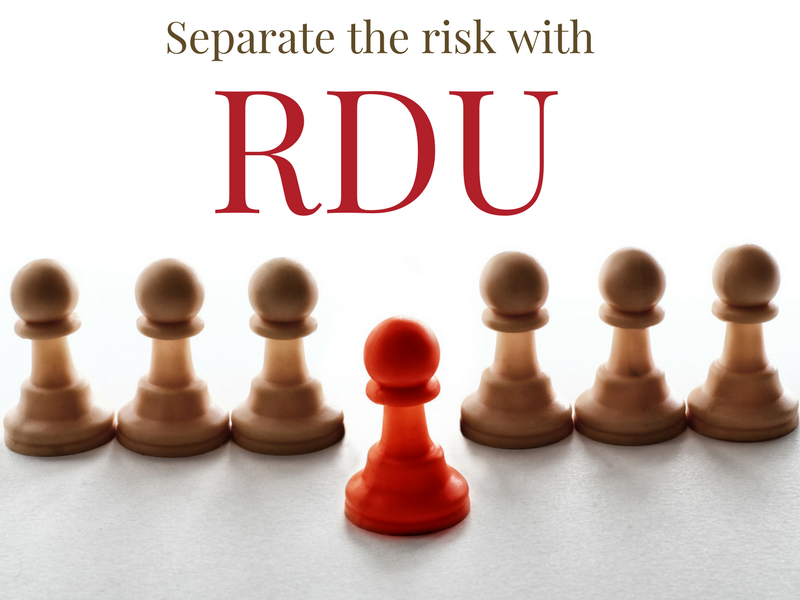 Preparation & Perseverance: The Pillars of RDU
The express purpose of Risk Differentiation Underwriting (RDU) is designed to deliver high risk life insurance underwriting pricing based upon the individual merits of a client's unique clinical profile, versus a risk assessment based upon the law of large numbers. In the arena of high-risk underwriting, RDU strategies are built to recognize specific idiosyncrasies of a clinical impairment in order to favorably separate that risk from an otherwise statistical/actuarial grouping. However, achievement in this regard requires an RDU practitioner committed to meticulous preparation and persevering earnestness.
The only true measure by which RDU-based special risk underwriting can be gauged is through results…..and the only way to achieve extraordinary underwriting results is through unrelenting tenacity framed by preparation and perseverance. Successful underwriting for this type of case is a combination of many factors: clinical knowledge, presentation skills and professional underwriting relationships to name a few. However, it is the two P's that form the fundamental building blocks for high-quality underwriting performance.
Top notch preparation allows the Home Office underwriter to reach well-founded decisions in a timely manner. It creates a comfort zone for the underwriter which can alleviate the tiresome scrutiny that often accompanies special risk engagements. Moreover, the long term by-product of an underwriting comfort zone is trust; a trust produced by an extensive track record of well-prepared case data wrapped in a concise presentation package. The direct benefactor of a comfort zone produced trust is the producer/financial advisor and thereafter the customer. As such, it should be the responsibility of the presenter to create the underwriting comfort zone in an attempt to remove the shackles of more conventional underwriting relationships and enhance the opportunity for individualized customer-focused results.
RDU In Action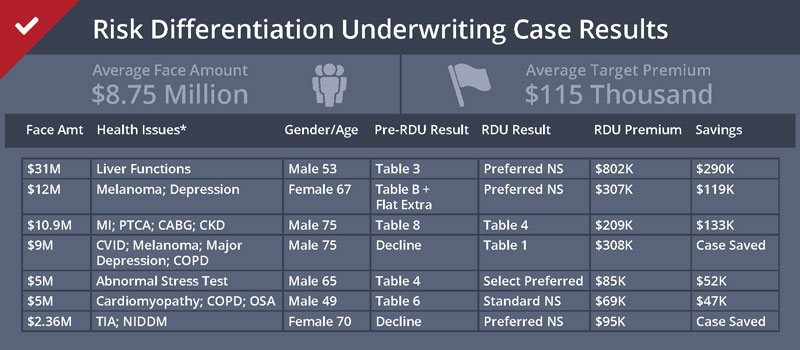 The results speak for themselves - hear a first hand account from a top producing financial advisor.
While preparation is one piece of the RDU success puzzle, the other is perseverance. These two P's enjoy a symbiotic relationship within the realm of this unique type of underwriting. Preparation leans on perseverance to enhance performance, yet perseverance is noncontributory if not first preceded by preparation. Perseverance is the grease that moves the RDU pallet. In essence, risk differentiation in its pure form... is special risk perseverance. Invariably, favorable RDU results are achieved through a rather basic formula: S = HW² or "Success equals Hard Work squared." RDU based special risk underwriting success mandates long hours and a "never give up attitude". The benefits of this RDU strategy component are readily realized while absence of the same can border on ignorance.
Case Study: Turning a Declined Client, Due to Recurrent Cancer, into Approved for Life Insurance
Special risk underwriting provides a terrific forum for RDU. It provides the case presenter room for innovation and collaboration through a selection of interpretive opportunities. However, it is preparatory energy and tenacious perseverance prior to case presentation that pays long term dividends. They work in tandem to create a Home Office underwriting relationship built upon consistency and painted by trust. When an underwriting pricing result is expected, rather than hoped for, it is a function of performance based upon results and not promises. The foundational premise supporting Risk Differentiation Underwriting is to do the good and right thing for the client and to recognize that the client always comes first. Preparation and perseverance, the pillars of RDU, are the critical elements for delivering on this mantra.
We want to hear from you!
Do you have a case in mind for RDU?