Retirement planning represents both a MASSIVE risk and a MAJOR opportunity for you, the financial planner or professional. Do it well, and grow your practice to unprecedented levels. Don't do it at all, and run the risk of leaving a boatload of money on the table.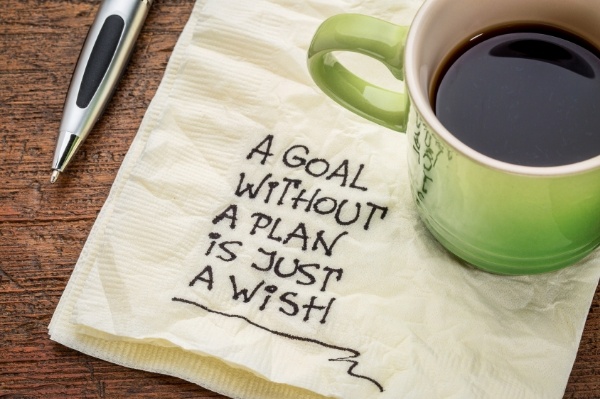 According to a recent 2016 study on The Benefits of Retirement Planning, by the LIMRA Secure Retirement Institute, "pre-retirees and retirees who have recently created formal written retirement plans are significantly more likely than those who have not, to plan to take action in the near future." In addition, "pre-retirees and retirees with Formal Written Plans (FWPs) are more likely to purchase products and investments to implement their plans…from the financial professional (who advised and developed the plan with them) rather than from other sources."
Many pre-retirees and retirees today are comfortable using online calculators and tools to complete simple retirement calculations and generic retirement plans, but most turn to Financial Professionals to make up for gaps in their own retirement planning.
These are some of the key motivators, as found in the LIMRA study, that lead pre-retirees to work with a financial professional:
Knowing how much they will have available to spend in retirement
How to invest their assets
How much they can safely spend in retirement
Analytical investment and product expertise
Advanced planning tools that they themselves do not have access to
Pre-retirees and retirees seek predictable, tax-minimizing strategies that can find a balance between protecting against depleting assets while maximizing income. Financial professionals who are not equipped to work with their clients to create formal plans, or who cannot provide these services will be at a great disadvantage. In a world where specific investment decisions can be optimized via computer algorithms, in-depth planning services will be a key differentiator. The good news is that if you are ready to take your plan documentation skills to the next level their are tons of resources for you.
SOMEONE WILL SPEAK TO YOUR CLIENTS ABOUT RETIREMENT: IT SHOULD BE YOU!
According to the study, "among those working with financial advisors/planners, 23 percent have created FWPs. In contrast, 15 percent of those working with an investment broker have created these plans. Because the vast majority of those working with FPs do not have FWPs, a large untapped opportunity exists for FPs seeking to expand their services beyond investment management."
Creating a formal written retirement plan for your clients is a crucial step in the development and success of your relationship. Yet, most FPs do not take this step and opt for a less time-consuming route. Creating an FWP doesn't need to be cumbersome and since the benefits of creating an FWP for your client far outweighs any time constraint, here is a quick "how to guide" for one.
Things you should know:
Retirement Planning Triggers:
Age
Children leaving home
Job loss
Health issues
Retirement Planning Stages:
Planning: Developing written plan and seeking FP help
Planning Begins (55-59) / Done at (Age 55 – 64)
Consolidation: Consolidating Retirement Accounts, IRA Rollovers
Planning Begins (60-64) / Done at (Age 60-69)
Income Generation: Convert assets to guaranteed income, claim Social Security, withdraw funds from qualified retirement accounts
Planning Begins (varies greatly by activity) / Done at (Age 65-75)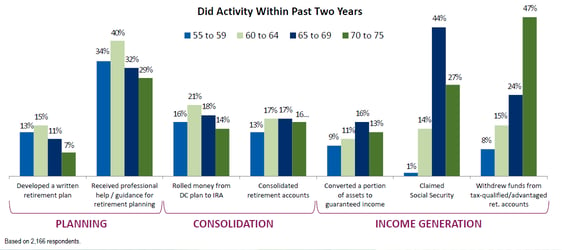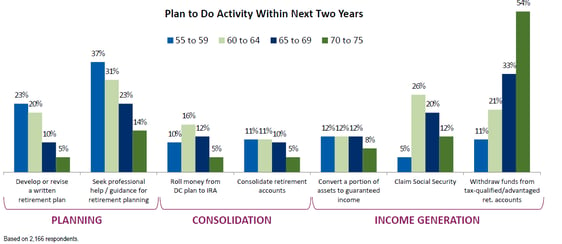 Source: The Retirement Income Reference Book 2015, LIMRA Secure Retirement Institute, 2015.
Retirement Milestones:
Age 55: If retired, may withdraw 401(k) savings without penalty
Age 59 ½: Can withdraw tax-deferred assets without IRS penalty
Age 62: Partial Social Security benefit eligibility
Age 65: Medicare benefit eligibility
Age 66-67: Full Social Security benefit eligibility
Age 70 ½: Must Take RMDs (required minimum distributions)
Click here to print out a retirement planning checkpoint worksheet.
Quick Tip: Advisors with established relationships during the pre-retirement years must promote their planning capabilities with their clients in order to set the stage for the critical retirement transition period.
How to Write a Formal Retirement Plan
A FWP should cover a wide array of retirement goals, including:
Income generation
Managing assets
Establishing a budget
Claiming social security
Leaving a legacy for heirs and/or charities
Risk management (inflation protection, market downs, health care costs and longevity)
Quick Tip: Your clients are smart and they like to feel involved in the planning process. Give them access to online tools and calculators like these and save yourself a little time.
Key products to include in a FWP:
Annuities
LTC Products
Life Insurance
The FWP Process:
FPs must gather various financial documents to complete the plan, including:
Investment account statements
Tax returns
Wills
Trusts
Powers of attorney
Life insurance and annuity policies
Other necessary/useful information:
Assumption of current and anticipated expenses
Written or online questionnaires or fact finders
LIMRA suggests that "while there is no substitute for personal interaction, FPs hoping to expand their planning services must consider more efficient ways to accomplish this first stage of the planning process, such as tools that can be completed by clients online."
Quick Tip: Helpful tools like BSMG's Retirement Planning Factfinder and Retirement Needs Worksheet will allow you to understand your clients' retirement goals and expectations, risk tolerance, preferences, and attitudes and those needs that should be addressed first.
Building the FWP:
Snapshot of client's current financial situation (include documents like current assets and liabilities, cash flow statements, current asset allocation vs. targets).
Projections for retirement period.
Course corrections and recommendations that are updated at an annual review to ensure client stays on target.
Best Practices:
Include short introduction that summarizes all critical issues in an understandable way first.
Divide FWP into topical sections.
Use graphs and charts for the bulk of the planning document, as they are easier for clients to understand.
Leave detailed notes for the back of the document or appendices.