[Case Study]
WHEN NEEDS CHANGE, OFFERING DEATH BENEFIT PROTECTION WITH FLEXIBILITY FOR CHRONIC ILLNESS JUST GOT EASIER.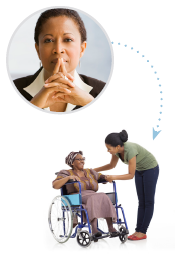 Term life insurance to permanent life insurance with a BenefitAccess Rider,1 enhances the term conversion process and makes it easier for you to offer both death and chronic illness protection to your clients. This case study shows just that.
CASE FACTS
Sharon, age 50, purchased her Term Essential 20 policy four years ago. Her expectation was that the policy would take her through her working years. After recently taking charge of caring for her chronically ill mother, Sharon realized that the possibility of being struck by a chronic illness could be a financial obstacle in retirement.
THE CURRENT SITUATION
When Sharon purchased her Prudential Term Essential 20 policy, she was rated Preferred Best. Today, she's still in great health. While her financial professional reviewed the living benefits other life insurance policies offered, Sharon felt that a death benefit, alone, would meet her needs.
Sharon's chronically ill mom needed care and attention. The family's solution was for Sharon's mom to move in with her. It prompted Sharon to consider her own circumstances as she ages. Even if her adult children have the means to take care of her, becoming a burden on them is something Sharon adamantly wishes to avoid.
Watch Now: [On Demand Webinar] The 5Ws of Chronic Illness Care With Prudential's Dr. Bob
THE CHALLENGE
Sharon's term policy gives her the coverage she needs for a relatively low price. But it would be of no help if she were to become chronically ill before or after the term policy expires.
A term policy is only good for the duration of the term chosen.
Once the term expires, it will no longer cover Sharon.
Sharon wants to find a permanent policy that helps meet her long term insurance needs, with the flexibility to add a rider that can help cover the costs associated with chronic illness.

SOLUTION
Sharon's financial professional shared that Prudential has excellent convertibility features available that will meet her needs. She had an opportunity to convert her term policy to a permanent policy with a chronic illness rider. If Sharon converts to a policy with the BenefitAccess Rider, the conversion may be eligible for a limited underwriting review if she is qualified. Exams and specimens will not automatically be ordered. Moreover, if she qualifies, Sharon will maintain the same, favorable underwriting she received with her term policy. This will give her:
Death benefit coverage beyond the 20 years she originally had.
The ability to accelerate the policies death benefit to help cover the costs associated with chronic illness care.
Sharon's financial professional explained to her how easy the process of conversion is; Sharon was on board.
Watch Now: [Video Blog] LTC & Chronic Illness Riders
ANTICIPATED OUTCOME
By converting to a permanent policy with a BenefitAccess Rider,1 Sharon now understands that, when a policy offers living benefits, life insurance goes beyond death benefit protection.
BenefitAccess Rider1 is the chronic and terminal illness rider that:
Lets clients accelerate the death benefit while living.2
Has no restrictions and no waiting period. Clients can use the money for anything they'd like, including paying for family care.
Requires no receipts.
Allows clients to choose how much of the death benefit they want to get, up to the maximum monthly amount.
ACTION PLAN FOR SUCCESS
The most successful approach with this sales concept is to focus on 10 clients at a time, following each of the steps below. Once you finish all of the steps with those clients, select 10 more and continue building your business.
Review your client and prospecting lists for potential candidates.
Once you have identified a potential prospect, set up an appointment to discuss their financial needs.
Prepare for the meeting by ordering marketing materials and illustrations from BSMG.
At the appointment, walk clients through the material that helps pinpoint their needs.
Schedule a follow-up meeting to present strategies to address the challenges identified.
Be sure to follow up after these meetings for applications, questions, or additional discussion.
1 The BenefitAccess Rider is an optional rider for chronic or terminal illness that accelerates the life insurance death benefit. It is not Long-Term Care (LTC) insurance. Benefits received under the rider will reduce and may deplete the death benefit. Electing the BenefitAccess Rider results in an additional charge and underwriting requirements. Some benefit payments may be subject to a fee. Other terms and conditions apply. Clients should consult their tax and legal advisors.
For New York contracts. Please also note the rider is not subject to the minimum requirements of New York law, does not qualify for the New York State Long-Term Partnership Program, and is not a Medicare supplement policy. In addition, receiving accelerated death benefits may affect clients' eligibility for public assistance programs and such benefits may be taxable.
2 Accelerated death
benefit
payments may be taxable. Clients should consult with their tax advisors before making any decisions.
Term Essential is issued by Pruco Life Insurance Company except in New York, where it is issued by Pruco Life Insurance Company of New Jersey. Both are Prudential Financial companies located in Newark, NJ.
Guarantees are based on the claims-paying ability of the issuing insurance company.