Think back to a time when you purchased a product or service, and left with a sense of fulfillment from that purchase. Perhaps you left with a feeling of comradery with the seller. The transaction may not have felt like a typical sale. This is the feeling that a good salesperson creates. They engage with the client to form a collaborative environment, a trustworthy rapport and positions the product or service to fit your needs. We broke down the attributes that come into play when financial advisors prospect buyer motivations and how they become experts in relationship building.
Set the groundwork. To understand your client's motivations and triggers you must ask the right questions and listen to their responses. This back and forth will provide you with insight into your client's buying personality and will help dictate your sales approach. Buyers aren't all created equally. They require different approaches, Dan Seidman, sales trainer and author of The Ultimate Guide to Sales Training and The Secret Language of Influence, speaks about two types of buyer personalities: The Pain and The Gain Motivators in InsuranceNewsNet Magazine. Knowing which personality aligns with your client will help build a stronger relationship and save you time in closing the sale. What is a pain-based buyer versus a gain-based buyer?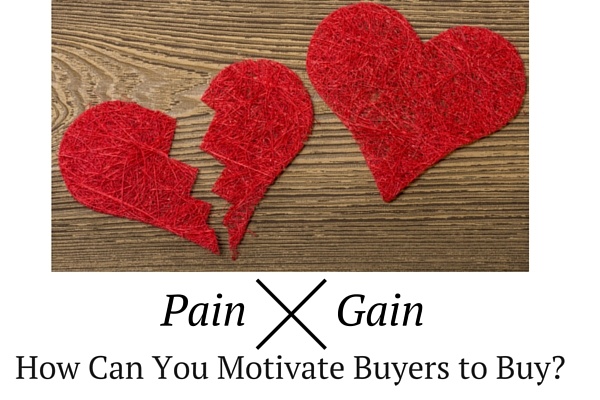 Pain-based buyers. These are the buyers who don't have a need or goal to buy a product, yet. They will often challenge first impressions using a devil's advocate approach to uncover a negative side of a product. These clients can be observed more as realists and need your help in seeing the need of a product. The pain-based approach embodies preventing and solving a problem.
Gain-based buyers. Buyers who don't align with the pain-based personality respond to a proactive sales approach. This involves exemplifying product features or service benefits, and the gains of the product. This person will often be in the market for a product and have a predetermined goal. Gain-based buyers are optimistic and will find a solution to almost any problem.
Read More: Generation Matters: Connect With Clients and Generate Sales
As a successful financial advisor you will be able to change the conversation to best fit your client's way of buying and thinking. You will speak the same "language" as the buyer, listen to them and respond appropriately. How can you figure out if your client is pain or gain driven?
Lay the ground work. Asking the buyer questions about themselves will help you determine whether they're pain or gain based buyers through how they respond, positively or negatively.
"What is important to you about...?"
"How often do you worry/think about...?"
These questions will also help you determine their need for the product. You can work off the questions and responses to dig deeper. This shows interest, compassion and concern to your client. By exhibiting these human characteristics, your client is more likely to put their trust in you and do business with you. Next ask more personal questions, directed to their problem.
"Does that take a lot of time out of your day?"
"Does this impact your business/life?"
"What would it look like if you kept things the way they are?"
Based on their answers you'll know if they have a solution or goal in mind. If they don't, you now have the opportunity to present them with the solution. This approach is done by determining if they're pain or gain driven.
Want More: Earn New Referrals by Delivering Gold Medal Service
How can you develop pain and gain messages?
Developing emotional connections with your buyer comes with practice. Building the ways you use this psychology can be done by:
Creating lists of pain-based consumers and gain-based consumer characteristics
Using the characteristics lists to form questions and sales scripts
Identifying the majority of your clients and creating messages or content around to create a proactive response for your product/service
Not all buyers think alike. Is learning how to be a successful life insurance agent and financial advisor on your list of goals for 2017? If so, adjust your traditional sales technique for a personalized presentation that will match your clients buying personality.
Read More: 6 Steps To Building A Successful Life Insurance Sales Strategy
WE WANT TO HEAR FROM YOU!
Do you currently adjust your sales presentation to match your clients buying personality?
Does the pain-based verse gain-based buyer resonate with any of your current clients or prospects?