Your clients with a history of breast cancer can still get life insurance!
Many breast cancer survivors think that they won't be able to get affordable life insurance, but that is not true! Thanks to advances in medical treatment many special risk life insurance companies have changed their coverage guidelines. With special risk underwriting, securing life insurance for breast cancer survivors is possible and will help protect more families who need this coverage. At BSMG we have taken it one step further with our Risk Differentiation Underwriting (RDU). RDU looks at an individual, rather than the law of large numbers.
October is National Breast Cancer Awareness Month, the perfect time to spread the word about the options for life insurance coverage for breast cancer survivors.
Some things you may want to ask your client in preparing a case:
Specific Type of Breast Cancer
Stage and Grade of Cancer
How Cancer Was Treated
Size of Tumor
Preventative Measures Taken to Limit Relapse Risk
BRCA-1 and BRCA-2 Results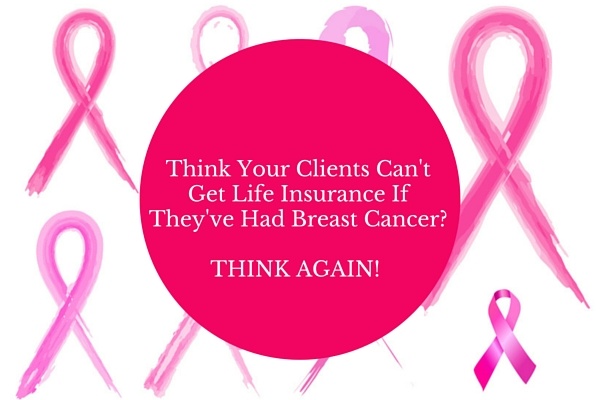 CASE STUDY WITH RISK DIFFERENTIATION UNDERWRITING
The client, a female age 65, was previously diagnosed with breast cancer after a routine mammogram. She was originally declined coverage for life insurance. The client and her husband were looking for $1,000,000 in Survivorship coverage along with individual coverage for a like amount.
Watch Now: [Video Case Study] Risk Differentiation Underwriting

THE CHALLENGE
The client had always had thorough regular routine well-woman exams and testing. A routine mammogram was suspicious and a core biopsy revealed infiltrating ductal carcinoma, hormone receptor positive and HER/2neu negative in the left-upper breast. There was one sentinel lymph-node positive for cancer, the other two both negative.
Medical history highlighted that the client's BRCA-1 and BRCA-2 genetic analysis were both negative. In accordance with these results, the client decided on further preventative measures and bilateral mastectomies were performed.

The declined coverage was for both the Survivorship policy for and Individual coverage on the client. The reason was based upon the client's previous history with breast cancer and the potential for a relapse.

At this point, RDU was brought in to assist the agent with the situation and see what he could do to potentially help the client and her husband.


RISK DIFFERENTIATION UNDERWRITING AT WORK...
BSMG's special risk underwriter did an initial clinical triage including a thorough assessment of all medical records. A formal presentation was made of the aforementioned medical data and a direct pricing discussion was conducted with the Chief Underwriter of several life insurance companies. His goal during these negotiations was to highlight the favorable idiosyncrasies noted in the client's breast cancer history in order to produce a variable underwriting offer for both Survivorship coverage on the client and her husband and individual coverage on the client.
Principal Financial's result was accomplished subsequent to re-engaging the Chief Underwriter and Medical Director as their initial pricing decision precluded Individual coverage on the client. Upon first review, Principal did not delineate between Survivorship and Individual pricing on the client yet in subsequent discussions stated they would not participate in Individual pricing on the client. In addition, the RDU process noted several unique characteristics of the clients breast cancer history (both in her genetic tumor markers BRCA-1 and BRCA-2 were favorably negative, aggressive treatment in the form of bilateral mastectomies and 4-cycles of dose-dense adjuvant chemotherapy and successful hormone treatment with Arimidex).
THE SOLUTION
What our special risk underwriter found using the unique process of RDU was that the client's risk of residual cancer was low. To him, she appeared to be insurable at premium pricing with a flat-extra of $15.00/M payable for 5-years.

After presenting these findings to multiple carriers, the client was issued the Survivorship policy at Standard Plus with a $20.00/M flat-extra for 4 years by Principal.
THE RESULT
The Client Wins by receiving individual coverage for life insurance that she otherwise would not have been able to be issued.

The Agent Wins by becoming a hero in the eyes of his client and for being compensated for "Doing The Good And Right Thing."

Read Now: Preparation & Perseverance - The Pillars of Risk Differentiation Underwriting