Do you have clients with traditional IRAs? Are they close to age 70 or older? If so, you need to read on.

Current tax law requires clients who have an IRA and certain other retirement products to start taking a required minimum distribution (RMD) at the age 70 1/2. These minimum distributions are calculated annually based on their age, account balance at the end of the previous year, marital status and their spouse's age. If they do not take the annual minimum distribution, your clients may be subject to a 50% penalty tax on the underpayment, as well as ordinary income tax, as the funds are withdrawn.
The question we typically hear is, "how can I quickly calculate my clients' RMDs?"
We have the solution! Use our simple interactive calculator to get your clients' projected RMDs. This can be accessed when you need it on our website. All you'll need is the following information from your clients.
Client's & beneficiary's dates of birth
Is their spouse designated as the beneficiary on the plan
Account balance at the end of the last year
Anticipated return percentage prior to age 70 1/2 (0%-10%)
Anticipated return after age 70 1/2 (0% to 10%)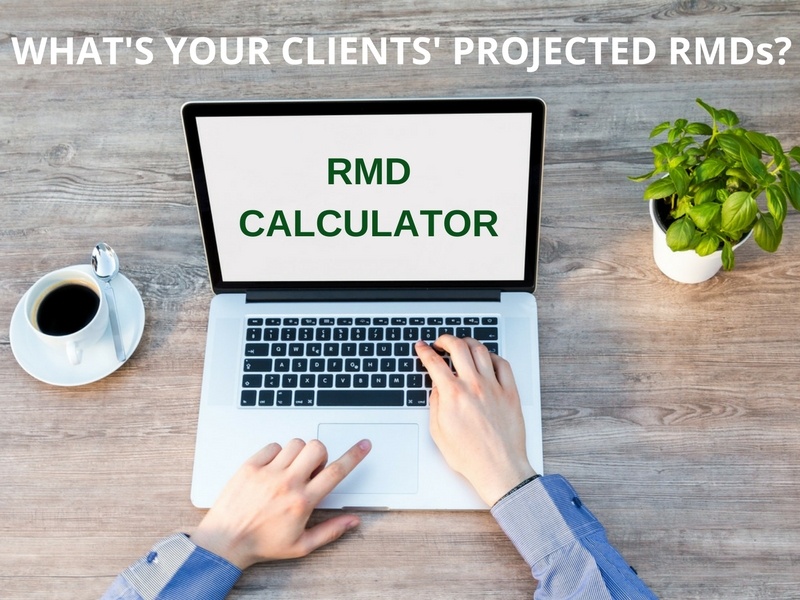 Get More: Industry Fact Finders
The follow-up question we often get in reference to RMDs is "how should I invest my clients' after-tax RMD amounts they don't need for current fixed expenses?"
For your IRA owners with multiple sources of income you can allocate these funds as a form of inheritance to heirs. You can use the after-tax dollars and reinvest these in their non-guaranteed financial asset portfolio.
But, what if you could reallocate the funds in a way to maximize the tax benefits and provide your clients' with a larger inheritance for their families? There's a way and the concept has been coined the Inherited IRA Legacy Plan. Under this plan the after-tax RMDs are used to pay for the annual premium on a no-lapse UL or no-lapse SUL life insurance product. The income tax-free life insurance death benefit can provide a larger inheritance than simply reinvesting the after-tax RMDs in an asset portfolio with taxable yields. This is especially true in the continuing low-interest economic environment for fixed financial assets.
Get the blueprints for the Inherited IRA Legacy Plan Using Life Insurance by reading the full article here.
Brokers' Service Marketing Group has several other financial calculators available to help you facilitate productive client conversations for Retirement Planning, Insurance Needs, College and Education Savings, Business and Tax Planning and much more! Explore and access the calculators on our website below:
College & Education Calculators

Retirement Calculators



Insurance Calculators



Business & Taxes Calculators



Money & Savings Calculators
Access all of BSMG's calculators on our website at www.bsmg.net/calculators.
Do you have a question about a case or one of our calculators? Contact us at (800) 343-7772 and speak with an expert today.