In the wake of the great recession of 2007-2008, there is now an ever-growing search for financial safe havens. Factors including potential market volatility, surging healthcare costs, and the rising price of retirement have your current and potential clients hungry for asset strategies that help:
Protect their savings from future extended care costs.

Diversify their equity portfolio and minimize exposure to potential market downturns.

Generate safe and predictable gains without downside risk.

Ensure that their business thrives for generations to come.
In the coming weeks, we'll dive into four different asset strategies that will help your clients do all the above. These include:
Life Insurance with Long-Term Care Insurance (LTCi)
Diversifying Concentrated Stock Positions with Life Insurance
Fixed Indexed Annuities
Exit Strategy/Business Succession Planning with Life Insurance
Today, let's take a look at #1: Life Insurance with Long-Term Care Insurance (LTCi)
Did you know that 70% of American over age 65 will require some type of extended care services over the course of their life?
Which asset would your client use first if they needed extended care today (stocks, bonds, real estate, bonds, IRAs, mutual funds, annuities, life insurance)?
Are they prepared to spend down nearly $1,000,000 of retirement savings to fund an extended care event?
If not, a Universal Life insurance policy with a Long Term Care (LTC) rider represents a smart way to protect assets by transferring extended care risk to an insurance carrier.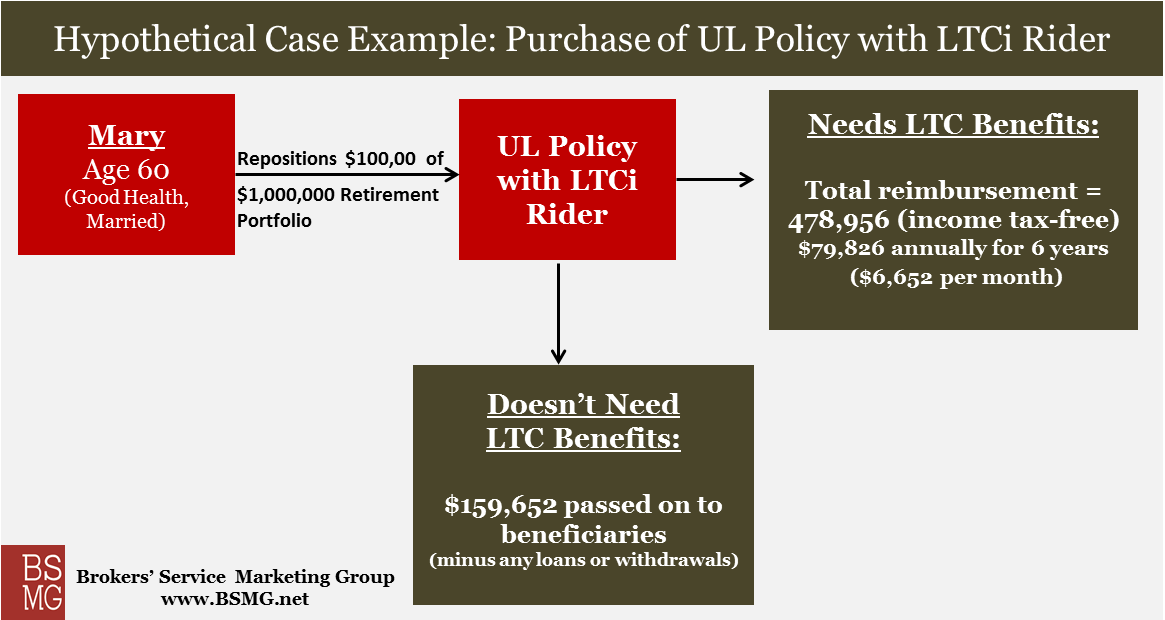 Key Benefits of this strategy:
Low present value cost provides protection against death and extended care expenses in the same product package.
Covers extended care services received at home, in a nursing home, assisted living facility or adult day-care program.
The base policy is a guaranteed no-lapse Universal Life policy with a very competitive Internal Rate of Return (IRR) out to life expectancy and beyond.
Keeps client in control of their assets; A money back guarantee (1).
Makes client's money work harder; leveraging each dollar up to 3 to 5 times in the event of an extended care need.
Any portion of guaranteed death benefit not used for LTC passes to beneficiaries income and tax-free.
(1)Through the Return of Premium Rider on single premium and certain flexible premium universal life policies.
*Any tax-free benefits paid reduce the life insurance death benefit dollar-for-dollar. Insured must qualify under the 2 out of 6 adult activities of daily living (ADL) requirement for an LTC claim to be paid.