Brokers' Service Marketing Group Publishes Results of the 2016 Life Insurance & Annuity Brokerage Survey
- Study reveals that all Brokerage Agencies are NOT created equal.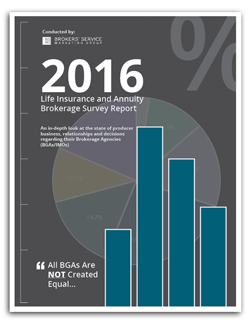 Providence, RI – February 3, 2016 - In November of 2015, Brokers' Service Marketing Group sponsored a non-branded, blind survey of over 75,000 financial sales professionals licensed to sell life insurance and annuities in the United States. These financial professionals were invited by email and online promotions to participate in the survey.
The results of this study represent the responses from financial professionals who have sold an annuity or life insurance policy, to at least one client in the past 12 months, and who currently work or have previously worked with a Brokerage General Agency (BGA), Financial Marketing Organization (FMO) or Independent Marketing Organization (IMO).
The 2016 Life Insurance & Annuity Brokerage Survey Report is an in-depth analysis of the state of advisor relationships and decision-making criteria regarding their Brokerage Agencies (BGAs/IMOs). This report is designed to give financial advisors, life insurance professionals and estate planners a look at what their peers have to say about their experience with their Brokerage Agencies and consider how their own BGA relationships measure up.
The report includes:
3 Key Life & Annuity Producer Profiles & their Feedback on Choosing the Right Brokerage General Agency
A Summary of the Brokerage Agency Marketplace
Results of the Study with In-Depth Analysis and Brokerage Agency Satisfaction Scores
Summary
The majority of respondents identified themselves as a Financial Advisor or Independent Life Insurance Broker who works alone out of a home office or with a small group of advisors. The average respondent has been working within the industry for 13 years and works with about 80 clients within a given year.
The study encompassed advisors with all levels of production and is representative of the "advisor universe." According to the results, respondents who sell life insurance typically bring in annual premiums falling within the broad range of $15 – 100K, but falling more narrowly between $50 – 100K. Only a small percentage, 3.2%, sell over $1M is annual life insurance premiums. Contrastingly, those who sell annuities are more varied in their production levels across the board.
Advisor Support & Partnerships
In general, life insurance and/or annuity producers tend to be appointed with many carriers. More specifically 32.5% are appointed with between 4 - 6 carriers, 28.4% with 7 - 10 carriers and 21.1% between 0 – 3 carriers. The average number of carrier appointments for any single producer is 5.9.
While life insurance and annuity sales professionals tend to be appointed with a number of carriers, the opposite is true when working with Brokerage General Agencies/IMOs or FMOs. Producers typically work with only 1 or 2 different partners for sales support and practice management.
Advisor Needs and Expectations
Respondents were exposed to 26 attributes related to working with BGAs/IMOs. They were asked to rank these attributes in order of their importance to the advisor. So what makes a great BGA? Listed below are the top 5 most important attributes for an advisor when working with and/or selecting a BGA.
The number 1 factor of importance when working with a support partner was the knowledge of the organizations sales staff. High commissions came in ranking at the 16th place of importance and company popularity and brand awareness came in last. According to the survey results only 4.3% of life insurance and annuity sales professionals stated compensation is their main motivation for choosing which support partner to work with.
To download the full report, click here.
About Brokers' Service Marketing Group:
Dedicated to building a world-class life insurance brokerage firm for advisors and financial institutions, David B. Lea, Jr. launched Brokers' Service Marketing Group in 1972.
For over 40 years, Brokers' Service Marketing Group has delivered uncompromising support and service to top producers in the Life, Annuity, and Long Term Care Insurance arena. BSMG protects the future of families and businesses through innovation, passion and expertise and empowers advisors and institutions to achieve best possible results for their clients every day.
Today, the company maintains a long-standing and well-earned reputation for excellence in providing exceptional advice to financial service professionals and financial institutions. BSMG's has years of experience, product and industry knowledge, and relationships with all of the leading carriers which is made available to our clients as a resource.
For more information, please visit: http://www.bsmg.net