Recently we've shared a few blogs on what the future of annuities could look like in a post DOL world however, the future is unknown. What we do know is that in the present fixed indexed annuities are on fire! A recent LIMRA report shows that FIA sales exceeded quarterly all-time records in the second quarter of 2016. While we're not sure what will happen down the road, we do know right now is a great time to sell fixed and fixed indexed annuities!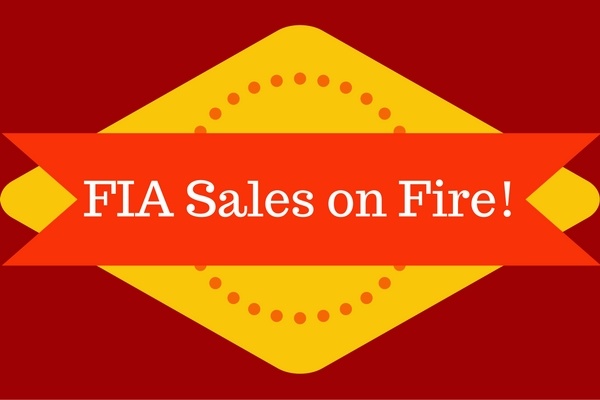 Read More: Top 5 Annuity Blogs
According to LIMRA Secure Retirement Institute's Second Quarter U.S. Annuity Sales survey, fixed indexed annuity sales were $16.2 billion, 30 percent higher than prior year and surpassing prior quarterly sales records.

"The decline in interest rates benefited indexed annuity sales once again as consumers seek out 'safe yield'," said Todd Giesing, assistant research director, LIMRA Secure Retirement Institute. "The indexed market is extremely competitive at this time as indexed products remain an attractive alternative to variable annuity (VA) products. This has been beneficial for independent broker-dealers, and in fact, we expect this channel to post record indexed annuity sales this year." To read the full article click here.

Some of the top companies have put an emphasis on their income annuity sales, with seven of the top ten writers experiencing growth of 25 percent or higher. "The Institute forecasts fixed immediate annuity sales will exceed $10 billion in 2016, 10-15 percent higher than 2015 totals."

LIMRA also reported second quarter, deferred income annuity (DIA) sales jumped 43 percent, to $870 million. This is the highest quarterly sales total for DIA products since the Institute started reporting DIA sales results! "In the first half of 2016, DIA sales rose 37 percent to $1.6 billion. Institute analysts expect DIA sales to have an upward trajectory in the second half of the year driving DIAs to a record sales year in 2016, exceeding $3 billion."
Read More: Will Indexed Annuity Sales Fall Because of the DOL Ruling?