Do you shy away from policy review because of the notion that it's too risky of a business? When you assess your client's policy, their health and financial circumstances, you qualify the best fit for their current position and needs. Preforming a policy review is a part of an advisor's due diligence, as needs change and new products are continually becoming available. Identifying an opportunity to put your client in a better position will boost your business, while also build client loyalty. What happens if you uncover an impactful health condition that could affect your client's chances of obtaining this new policy? With the right back office support and impaired risk underwriting team you can overcome what may seem like an impossible policy rescue.
There are currently thousands of existing trust-owned life insurance policies that can be restructured to provide greater value to your clients.
In fact, estate planning and policy review maximizes value (improves the situation) for clients who may already have trust owned "guaranteed" life insurance (no-lapse or cash rich). Don't let the threat of a potential impaired risk scenario scare you away.
Incorporating a support staff that can assess your client's health and mortality beyond the readily available data and present them in a different light to the carrier can be the difference in how they are rated and approved. Utilizing BSMG's Risk Differentiation Underwriting (RDU) has proven to be an asset to many advisors.
Download and view these actual case results to see how RDU can be the solution for your clients.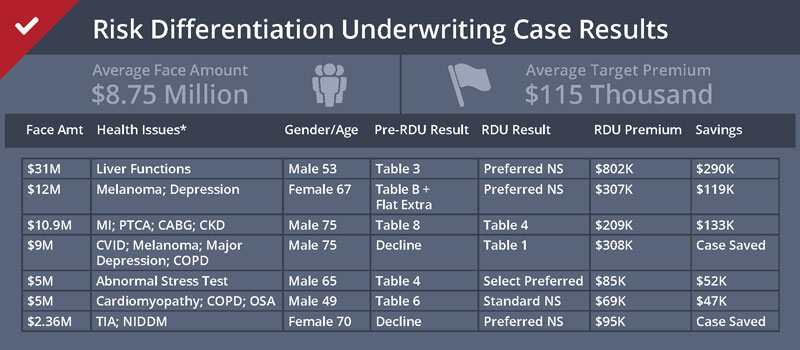 What is RDU:
RDU is designed to deliver exceptional underwriting results based upon the individual merits of a clients unique clinical profile, in contrast to objective risk assessment based upon the "law of large numbers."
RDU manifests itself as a powerful differentiator to introduce at the "Point-of-Sale" … rather than at the "Point of Underwriting Result Disappointment."

Delivers favorable underwriting results when assisting affluent clients with difficult clinical conditions, overcoming a significant challenge.

The average face amount for an RDU case is $8.75 Million, with an average target premium of $115 Thousand.
The time is NOW to deploy RDU! Get ready to take the next step by downloading a copy of our Underwriting Assessment Form and give us a call.
WE WANT TO HEAR FROM YOU - DO YOU HAVE A CASE IN MIND?