Over the last decade, we have seen growth in financial services and life insurance retail options for clients, most notably the explosion of the robo-advisors. More options are available to consumers, meaning buyers can be more particular with whom they do business with. Some businesses are so focused on obtaining new clients, they forget about their current clientele. There is something to be said for providing that extra attention to your loyal clients.
Statistics show that customers care more about service, quality and personalization, than cost. Wouldn't you rather do business with someone who caters to you individually and gives you customized service? Your clients certainly do. So, while other advisors and firms may fall short by focusing primarily on the pursuit for new clients, take the long game by setting up a life insurance sales strategy that includes paying more attention to your current customers. Recognize your current roster and make each client feel like the MVP. This will build customer retention, brand loyalty and make your business stronger.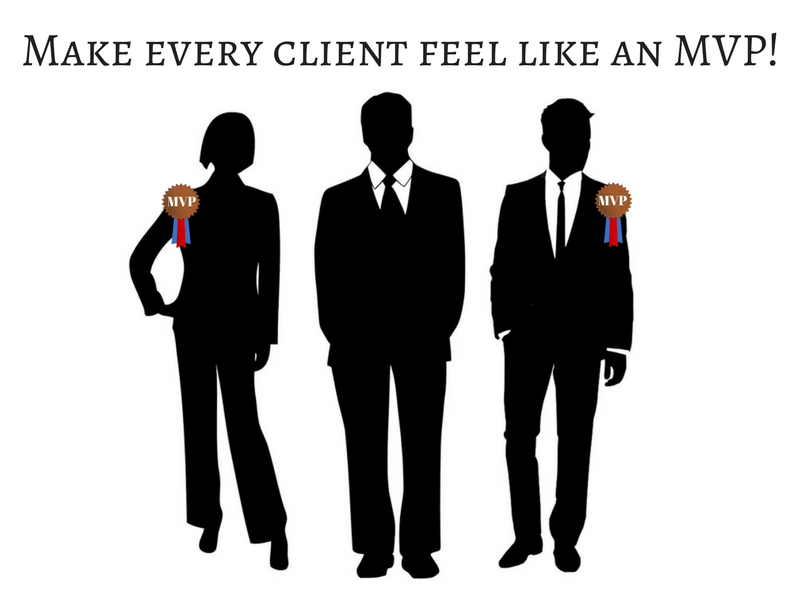 Personalize Your Service
A simple and inexpensive way to enhance your service can be done by treating each client as an all star and give them that specialized experience. We can all agree there's nothing worse than being rushed by a salesperson. So take your time and give that extra follow through to stand out to your clients.
Kissmetrics wrote an article on the 10 Studies That Reveal What Customers WANT You To Know About Them. One study found that customers absolutely adore personalization and will pay more for it! They used a control group where waiters presented checks to their patrons with mints. Take a look at their results:
In the first group a waiter delivered mints with the check with no mention of the mints. The tips increased by 3% against the control.
In the second group the waiters brought two mints separate from the check and made mention to them. The tips increased by almost 14% against the control.
For the third and last group, the waiter brought a few mints with the check, then came back and offered another mint to the table in case they wanted more. The tips increased by 21%!
While mints are a nice touch, the purpose of this example is to show that clients value the extra personalized service. This works for any service industry - including yours! The life insurance industry is facing a growing concern around client retention and policy persistancy. When a client switches to another advisor or lets their policy lapse, problems can arise around who is accountable for that client. For advisors, like yourself, this can translate to a missed opportunity.
The current buyers market doesn't help either, with advertisements suggesting clients choose term insurance solely on the best price. This minimizes an agents function in the process. With these factors working against us, how can you protect the sales process and the hard work, time and effort that you've already put in? Provide that personalized service to your customers and set yourself apart; building your client retention and their loyalty.
Want More: Use This Strategy to Close More Life Insurance Sales
Build Connections
Connect with your clients by telling them a personal story. Help them to envision their need for risk management by presenting a real life case where life insurance provided a safety net. If you need help formulating a story, use the who, what and how. Who encountered a situation, what happened, how did a life insurance policy help? What would the outcome be if there wasn't a policy?
This gets your client already thinking about how they could benefit from a policy. Also, by taking the time to speak to them on this candid (and personal) level you are already forging a bond and showing you care about their personal and financial future.
Ask the Questions that Count
Create an open dialog. Ask your client questions to better understand their financial history, family, lifestyle and goals for the future. The more you know about their social economic background, the better suited you'll be to formulate a plan that they'll move forward with.
Get More: 5 LTC Questions to Review with Your Clients
Give the Extra Mint
Go one step further and check in with your client annually to ensure the policy is still on track, meeting their financial and protection needs. You'll be perceived as a proactive advisor who cares about his/her clients. This will provide you with an opportunity to perform a policy review. Have they bought a house, had a child, or are their children of an age or in a position where they need life insurance as well? Adding this simple check in and client personalization will increase the likelihood of client retention, loyalty and may even lead to added business.
Competition in the industry is growing - use these steps to set yourself apart. Wouldn't you want to be your client's agent for life?
Read More: Why Conduct a Policy Review in the First 5 Years
TELL US: Do you use storytelling when speaking with clients?