When your client calls to discuss a lapsed policy, what do you do?
Oversights happen, here are some life insurance sales tips on what you can do to prevent a lapsed policy, put it back in force and provide your client with the protection they need.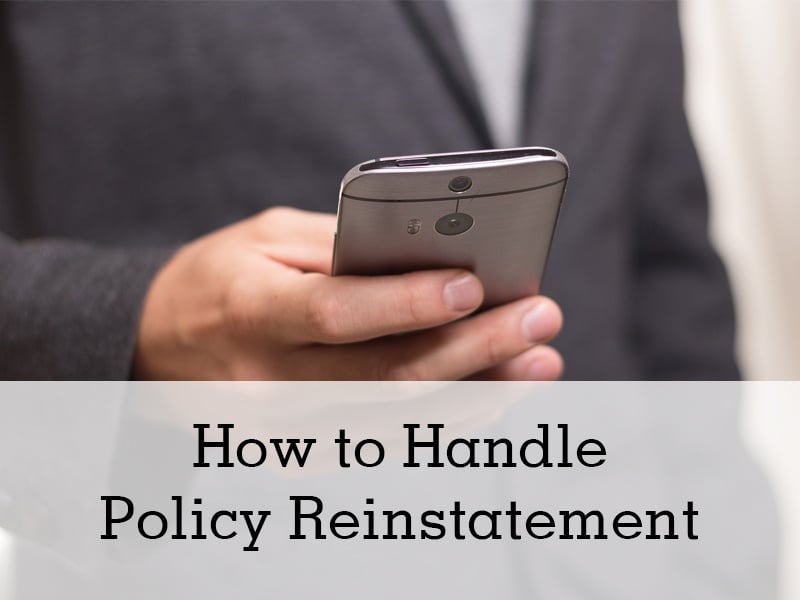 WHY DID THE POLICY LAPSE?
Get the facts. Was your client unaware that their policy lapsed? Does your client still want the life insurance policy? Is your client aware of all the benefits of their policy? This may be an opportunity for you to review your client's needs for their financial security.
Want More: Top 6 Tax Advantages of Life Insurance
WHEN DID THE POLICY LAPSE?
The time frame for reinstatement of a policy varies carrier to carrier; however it is generally only accepted three to five years from the time of the lapse. Checking the lapse date and the carrier's requirements should be done before the client fills out any reinstatement forms.
HOW IS YOUR CLIENT'S HEALTH?
Most carriers will request a paramed, blood and urine from the client for policy reinstatement. Depending on the client's original rating and what was previously presented, further medical information may be requested. While the reinstatement process is less invasive than the original application process, it is often more extensive than an in force policy change.
HAVE YOUR CLIENT'S INSURANCE NEEDS CHANGED?
The circumstances in your clients' lives affects the amount of coverage they need. Talking with your clients about their current health and finances will make your job easier. The information you obtain will help you figure out which products work best for their goals and needs - including the lapsed policy. Speaking with your clients about their lives will also help to build a stronger relationship.
Read More: 5 Reasons for Your Clients to Consider a Policy Exchange
HOW LONG DOES THE REINSTATEMENT PROCESS GENERALLY LAST?
Depending on the requirements of the carrier, you can expect the process, from start to finish, to last between a week to 60 days.
It is best to start the reinstatement process sooner than later, as some carriers will require additional underwriting.
HOW WILL POLICY REINSTATEMENT HELP YOUR CLIENT?

Reinstating your client's policy keeps your client and their family financially protected. More often than not, reinstating the lapsed policy will be the best option for your client. Reinstatement allows your client to take advantage of more competitive rates of older products that may not be available at this time.
WHAT CAN YOU DO TO HELP PREVENT YOUR CLIENTS FROM LAPSING ON THEIR POLICIES?

Performing annual policy reviews helps you stay in touch with your clients and aware of the health of their financial investments, including their life insurance policies.
Want More: Client Tips for Life Insurance Policy Reviews
The popularity of automatic and paperless billing is undoubtedly on the rise as it reduces the chances of missing payments. Suggesting your clients set up bank drafts is another way to prevent lapsing on a policy.
Use the free policy review checklist below to help protect your clients' life insurance needs.
Have questions about reinstatement or policy review? Contact our reinstatement expert Jon Bernier at 800.343.7772.