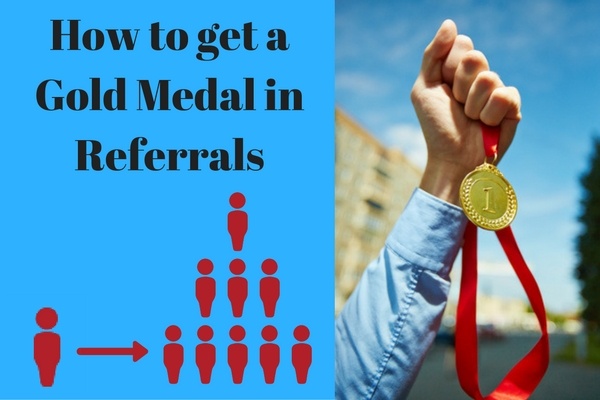 Did you know that 65% of new business for Financial Advisors comes from referrals? That means more than half of your new business may already be coming from previous customers. Are your clients referring you? Here are some tips that will help you boost your business and achieve a Gold Medal in generating sales through referrals.
At some point in your life you have likely reached out to someone who was referred to you by a family member or friend. These exchanges are usually spontaneous and natural, which is likely the reason they are so successful. What made you connect with that referral?
Naturally, people want to do business with someone they can trust and count on. A referral is essentially a personal reference and free testimonial advertisement. These transactions provide the prospective client with a sense of assurance in your services, and trust in your business. You've then already overcome the hurdle of the client finding your business without having to spend any money or seek them out on your own.
Read More: The Three Rs of Successful Practice Building
So, how can you get your clients to refer you? Some simple and organic ways to leave a positive and lasting impression:
Always exhibit "above and beyond" customer service. Make the client feel like they are your top priority.


Connection with clients on a more personable level, where they feel that you care about their best interest and family.


Be an expert in your industry and stay up-to-date on current policies.


Stay in touch with your client and keep them informed on any updates or changes to their plan or investments.
Ask if your clients are satisfied enough to share their experience.
Once a positive experience with your client has been made and they show appreciation let it be known that you are accepting new clients and that they can offer your information to others that may also benefit from your services. Referrals are 36 times more valuable than a cold call and thus worth you putting the effort into nurturing.
How can you increase your chances of getting referred by your clients? You can offer an incentive program to your current client base. Incorporating a referral program that provides your clients a reason and a return for their effort, benefits all parties involved - especially you. This form of marketing has been proven successful and can be found in many different industries including; financial planning, life insurance, and annuities.
Once a referral has been made it is important to follow-up with that potential client. Calling a lead shows initiative and can be the best way to start a conversation. You should also follow-up with your current clients with a phone call and personalized postcard to show appreciation for the referral, as well as their business. If your clients know how much you value them they will be that much more likely to recommend you to others.
Takeaways;
To earn a gold medal in referral business you must ensure that your current clients are highly satisfied with your service.
You must have a professional and personal rapport with them so they feel comfortable enough to recommend you to others.
Follow-up with referrals to begin a dialogue and current clients so they know you value their business.
Lastly, if you follow the tips above be sure to have ample business cards available for your clients to distribute.