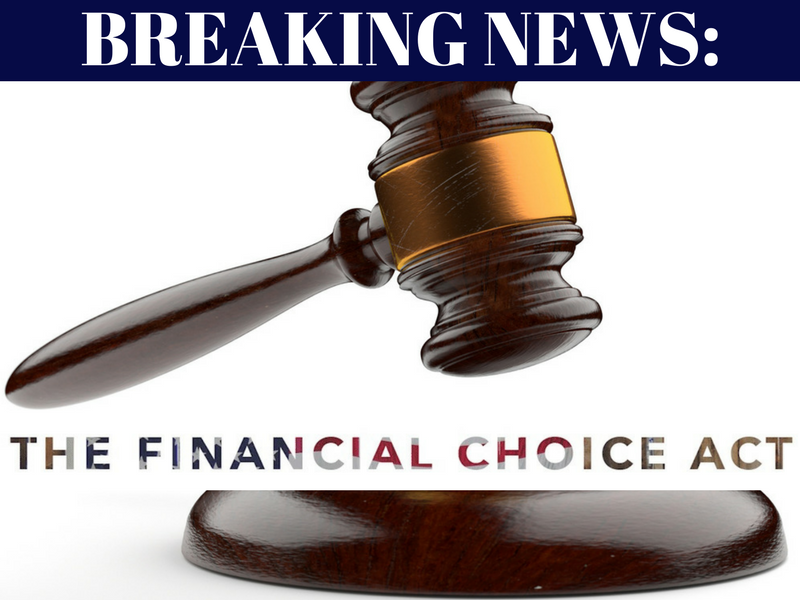 BREAKING NEWS 5/4/17: Yesterday, the House Financial Service Committee voted to approve the Financial Choice Act 2.0. The Act includes a repeal of the DOL Fiduciary Rule, which is set to be implemented on June 9th. The vote was 34-26 along party lines and came after three days of considering amendments from opposing Democrat members of the House Financial Service Committee. This is a revision of the previous Financial CHOICE Act by House Financial Service Committee chairman Jeb Hensarling (R-Texas) last year. The full House could vote as early as next week.
This news may be a sigh of relief to those in the financial services industry who oppose the implementation of the DOL Fiduciary Rule in it's current form. More broadly, it would replace the Dodd-Frank Wall Street Reform and Consumer Protection Act. The House Financial Service Committee's letter sent Monday describes the new Act as, "an essential first step toward unlocking our capital markets and facilitating the financing of economic growth and job creation."
While this is a step towards a repeal of the DOL Fiduciary Rule, it remains uncertain as to whether any legislative action could be completed before the June 9th implementation date. The Financial CHOICE Act's chief sponsor, Jeb Hensarling, makes substantial changes to financial regulations, including to the Securities and Exchange Commission and the Financial Stability Oversight Council.
Read more about the DOL Fiduciary Rule: 3 Key Issues from Jason Lea, President of Brokers' Service Marketing Group.
Criticism of the Act? There was some strong opposition saying the Act puts consumers at risk while protecting big banks and financial institutions. Ranking committee member Maxine Waters, D-Calif., said in an emailed statement that the bill is "deeply misguided. It is also dead on arrival in the Senate, and has no chance of becoming law."
Get more information on the Financial CHOICE 2.0 Act.
In the News:
Pensions & Investments - House Financial Services Committee approves Dodd-Frank replacement bill
Consumerist - 'Financial CHOICE Act 2.0' Rolling Back Consumer Protections Moves Forward
InvestmentNews - House committee approves Dodd-Frank replacement bill that includes repeal of DOL fiduciary rule
Business Insider - Here's a breakdown of the Republican plan to tear up Wall Street regulations
Stay up to date!
Sign up to receive text alerts from BSMG and never miss another breaking news story! SIGN UP NOW