The Case Challenge:
A 75 yeaIr old gentleman was previously deemed uninsurable by 7 life companies for $9,000,000 of Survivorship coverage due to extensive coronary artery disease history. An initial clinical triage unveiled past inferior and anteroseptal heart attacks, diffuse coronary artery disease, enlarged heart, Stage II chronic kidney disease and a 2012 brain injury.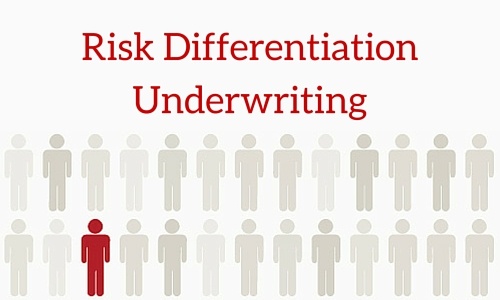 However, further review indicates remarkably favorable cardiac function, essentially normal kidney function tests and normal neurological profile.
Question: "How can the client's cardiac, renal and neurologic results look so good in the presence of such foreboding diagnoses?" There must be a reason…
Read More: Risk Differentiation Underwriting: Video Case Study
The RDU Strategy:
We engage the advisor immediately, requesting an opportunity to speak with the client, in order to gain insight as to his day-to-day lifestyle, exercise pattern and symptoms in the presence of his established medical history. We soon have the pleasure of conversing with a very unique 75 year-old, world class triathlete (in his age bracket)! The client confirms his diagnostic record yet documents his amazing exercise pattern and aerobic workload. In addition, he notes his past brain injury was the result of hitting his head on the roll-bar portion of a vehicle while on photo safari in Africa. As such, it becomes immediately apparent that a conversation with his attending cardiologist is mandatory in order to differentiate this septuagenarian from the "law of large numbers."
Moreover, it is critical that the physician be willing to participate in the underwriting presentation on behalf of his patient. Upon gaining approval from the client, we engaged his cardiologist in a lively and very enlightening discussion buffeting the risk differentiation strategy at hand.
RDU In Action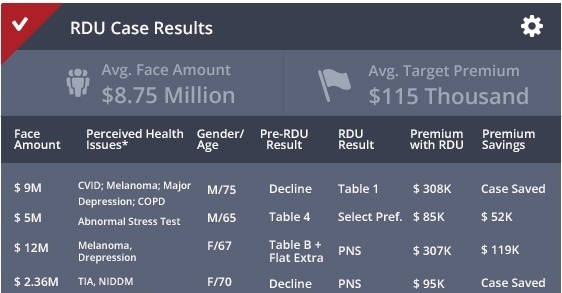 The RDU Presentation:
Our conversation with the cardiologist produces a much more amplified picture of the client reflecting an abundance of favorable data that heretofore was not clearly apparent:
Well-established and totally collateralized coronary vessels circumventing the underlying CAD occluded arteries.
Outstanding performance on both treadmill and nuclear testing noting the small segment scarring of the past heart attacks yet in the presence of superb overall cardiac function and the absence of any arrhythmias or hypertension.
Re-classification of Stage II chronic kidney disease as mild renal insufficiency with normal kidney function tests.
Reaffirmation of a fully evacuated subdural hematoma (acute photo safari trauma) without any neurologic component or residual.
A World Class triathlete by age category, exemplary exercise regimen with remarkable cardiovascular health and performance.
The aforementioned detail was captured in a written summation from the cardiologist and included in a much more amplified presentation to a select insurance carrier. The unique idiosyncrasies now in play produced a differentiated view of the client and approval at Table C pricing for $9,000,000 of SUL coverage.
Read More: The Pillars of Risk Differentiation Underwriting
The Result:
RDU has created a much deeper and highly valued relationship between the client and advisor based solely upon underwriting advocacy.
The insurance carrier welcomes an engagement of significance with all applicable mortality risk issues clearly articulated.
The advisor gains satisfaction in "always doing the good and right thing for the client" in conjunction with placing $210,000 of target premium.
The goal of Risk Differentiation Underwriting is not to change the way Home Office Underwriters and Medical Directors assess risk. Rather the aim is to recognize when a particular case exhibits qualities which are inherently different from a more standardized version of the same risk.
At Brokers' Service we employ a unique underwriting strategy on those engagements that demand more time and piercing intellectual inquiry. It's called Risk Differentiation Underwriting—RDU.
We want to hear from you!
Do you have a case in mind for RDU?