Often clients assume life insurance is a one-time purchase, but as life changes so do their life insurance needs. There are many important life events that should trigger your clients to review their needs, and your proactivity in advising them of these potential scenarios can deepen your relationship as a trusted advisor.
Making sure your client's coverage fits their current and future needs is very important. Take a look at the top 5 life events that should prompt your clients to contact you to review their policy.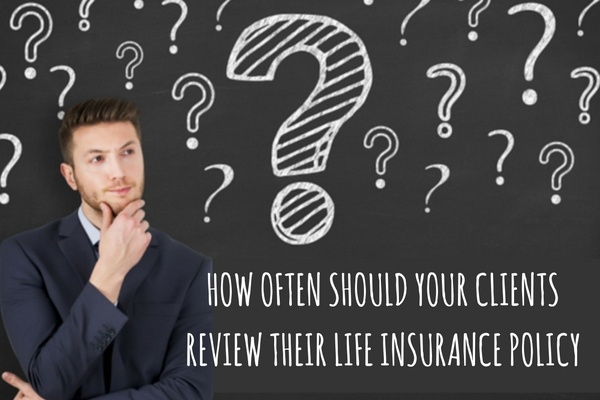 Read More: 5 Life Insurance Mistakes to Avoid Part 2


Getting Married or Divorced:
Your married clients probably already know that their spouse may depend on their income to maintain their lifestyle. However, do your single clients know to review their policy if they get married? A policy review would allow them to see if their current benefits cover their future needs. Once they have tied the knot they also may want to name their new spouse as a beneficiary of an existing policy. If you have clients that are getting remarried they want to make sure their current spouse is the named beneficiary. If they are getting divorced make sure to advise them that they may want to change their primary beneficiary from an ex-husband or wife to another family member. At this point they may also want to consider changing their coverage and premiums depending on their new situation.


Having a Child:
Before becoming a parent is a great time for your clients to come to you to review their life insurance policy. They may want to consider increasing their death benefits to fully support their family with both current and future expenses should they pass away unexpectedly. They may also want to name their child or children as a beneficiary. While their children are minors, make sure they know to designate a trust as their beneficiary because most insurance companies won't pay life insurance proceeds to a minor. Once the child turns 18 they should review their policy again to change the beneficiary from the trust to the child if they have them listed as a secondary or primary beneficiary.


Changing Jobs:
Getting a new job or a promotion often comes with a salary increase that your clients family may become dependent on. They may want to increase their benefits so they will be aligned with the increase in income. If a life insurance plan was provided by their employer and is no longer provided or is no longer enough coverage they should review the policy with you, the advisor, to see what changes need to and can be made.


Retirement:
When your clients are planning for or about to retire you should advise them to review their life insurance policy again because they may be able to expand their death benefits so they can be used while they are still living. In retirement they might be able to eliminate their policy all together if they have paid down debt and have a reliable income, and use the premium dollars for Long Term Care coverage.




The Loss of a Partner or Spouse:
When your clients experience the loss of a partner or spouse make sure they consider a policy review because it will impact their current financial situation. It can be challenging, but rewarding as well to help them through difficult times.They should look into changing their primary beneficiary if it was the deceased partner or spouse, consider increasing their death benefit to match their needs or think about expanding the death benefits so they can be used while they are alive.
Read More: 5 Reasons for Your Clients to Consider a Policy Exchange
Life insurance is a very important asset and your clients should have their policy reviewed at least once every few years, and whenever a major life event occurs. When selling or reviewing a policy remind them that anytime something happens that effects them financially it is a good time to review. Life is constantly changing which means that life insurance policies will need to change along with it, make sure your clients know that you are always available for a policy review.