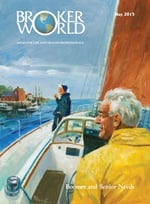 A Beneficial Planning Tandem
The benefits of a charitable remainder trust (CRT) working in tandem with an irrevocable life insurance trust (ILIT) are significant for charitable-minded estate owners looking to benefit a public charity or their own private charitable foundation. How does a CRT work, and what are the valuable benefits it can provide? The CRT can be formed either as a charitable remainder annuity trust (CRAT) which can provide a fixed lifetime income to the donor or as a charitable remainder unitrust (CRUT) which can provide a fixed percentage end of year value lifetime income to the donor.
Some of the great tax benefits that accrue to the grantor of a CRT:

A lifetime income stream for the single life or joint lives of the donor(s).

Capital gain on capital assets transferred to the CRT can be spread over the lifetime of the donor.

A significant income tax deduction for the present value of the remainder amount donated.

The assets remaining in the CRT at the donor's death are allowed a 100 percent charitable estate tax deduction.

Part of the after-tax lifetime income stream and part of the tax savings on the income tax deduction can be used to fund the insurance premiums of the ILIT for the benefit of the donor's heirs.

At the donor's death, the charity receives a significant deferred gift to use for its own charitable purposes.
Check out BSMG's ILIT & Private Loan Case Study Published at InsuranceNewsNet.com
Case Studies of Single Life CRT and Joint Life CRT
Here are examples of a CRUT, first for a single donor and then for joint donors. Assume $1 million of appreciated stocks or equity mutual funds are transferred to the CRUT. Life #1 is age 65 and life #2 is also age 65. Assume the current adjusted federal midterm rate (AFMR) is 2.2 percent. The stated quarterly payout rate in the CRUT document is 5 percent and the assumed rate of growth of the CRUT assets is also 5 percent.
Download the Full Article Here



Russell E. Towers can be reached at Brokers' Service Marketing Group,


500 South Main Street, Providence, RI 02903. Telephone: 800-343- 7772, extension 141.