When you sit down with your clients are you answering key financial questions relating to their savings, taxes, insurance, education, business or retirement investments?

Your client comes to you for your expertise and depends on you to provide them with a strong plan for their future. Don't waste time by using a hand held calculator to compute complex equations or fumbling with excel, or worse a paper form. Get quick, clear cut information with automated financial calculators so you can properly and easily answer questions like these:
How their 401(k) or Roth IRA will affect their retirement?
How the inflation rate will impact their retirement income needs?
How taxable, tax-deferred and tax-free investments may compare?
How long their money will last?
How much they'll earn in their lifetime?
How much they should save for college funds?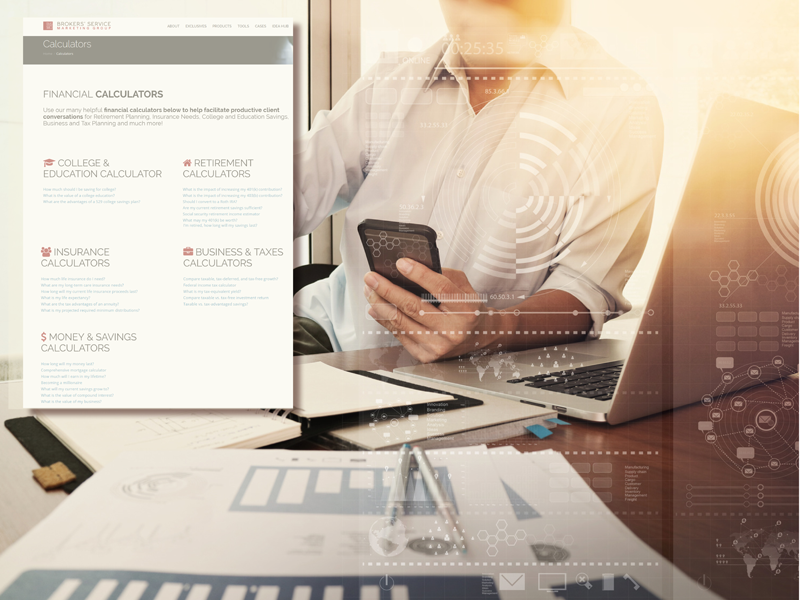 Rather than computing equations by hand, use these calculator tools. These will allow you to answer fundamental questions in a minimal amount of time. You can even use them while you're meeting with clients to clearly illustrate their situation and identify their investment needs. You will not only build your client's trust in showing them you know what you are talking about. You will make your job easier. Need a place to start?
BSMG has 30 financial calculators to help you facilitate productive client conversations for Retirement Planning, Insurance Needs, College and Education Savings, Business and Tax Planning and much more! Try them below:
College & Education Calculators

Retirement Calculators



Insurance Calculators



Business & Taxes Calculators



Money & Savings Calculators
For more calculators visit www.bsmg.net/calculators and access them anytime online!
Information is key! Having the numbers to back your financial recommendations is what will help you close the sale with your clients. Do you have a question about a case? Contact a BSMG at (800) 343-7772 to speak with one of our experts.
Want More: Fact Finders