The big game hunter is a different breed. He is not your average weekend sportsman. He spends days and sometimes weeks planning and preparing his strategy for a successful campaign. His equipment is more expensive and his hours are longer, yet the reward for his efforts is handsome. Such is the life of a big game hunter and such is the job of a big case underwriter.

Big cases come in different shapes and sizes, but their lure is always the same … success. Everyone wants to bag the elephant, but few are truly prepared to do so. The purpose of this article is to provide guidance through the big case underwriting process, with special attention to the older age client.
Read the rest of the article posted in Family Office Elite Magazine here.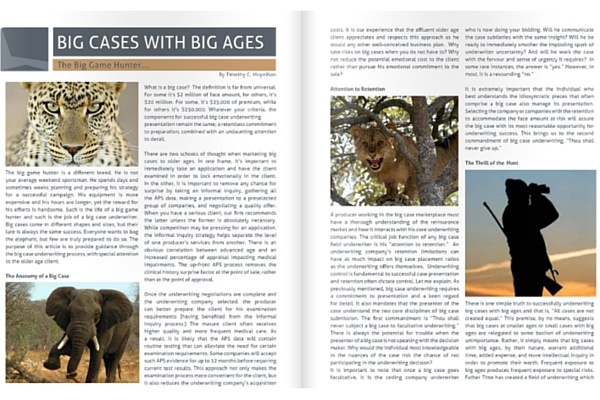 Read More: Risk Differentiation Underwriting: Video Case Study
The Anatomy of a Big Case
What is a big case? The definition is far from universal. For some it's $2 million of face amount, for others it's $20 million. For some it's $25,000 of premium, while for others it's $250,000. Whatever your criteria, the components for successful big case underwriting presentation remain the same; a relentless commitment to preparation, combined with an undaunting attention to detail.