8 Ways to Make Your LinkedIn Page GREAT!
Today you can find information about almost anyone with a simple Google search. Having a top notch LinkedIn page is a great way to market yourself to future prospects and clients alike. If a prospect were looking for a new financial advisor and stumbled upon your page, you want to make sure what they see entices them to give you a call!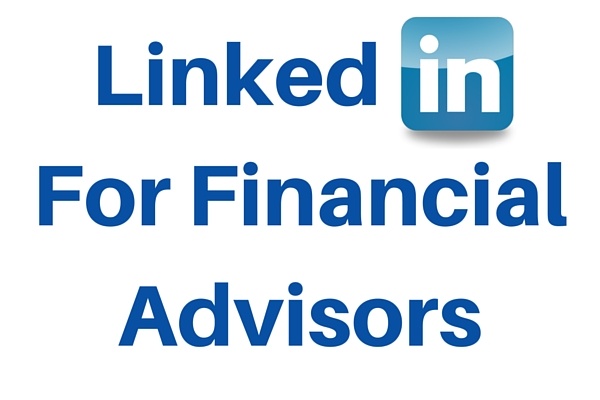 These 8 Tips are sure to get your profile noticed...
1. Use a professional headshot as your profile picture.
LinkedIn profile pictures are extremely important because it is the first thing someone sees when they look you up. This is not the space for a photo of your kids, pets or recent beach vacation. Your profile picture should contain a professional photo of ONLY YOU.
2. Add a banner photo.

LinkedIn now gives you the option of adding a banner photo to your profile. This is the place to be a little more creative. The site gives you options to choose from ranging from solid colors to mountain scenery. Since this photo is not the main focal point it is ok to be a little more relaxed. Use this space to bring your personal & professional brand to life.
3. Add designations after your name.
Put any designations that you may have after your FULL NAME on your profile. Your name should be stated in a professional manner, no nicknames, and designations should directly follow. Being a Financial Advisor, you will want potential clients to know qualifications you may have within the industry.
4. Ensure that your company, title and industry are correct.
You want to make sure that the name of your company, your current title and the industry that you work in are all up to date. This is the first piece of information someone will see when viewing your profile so keep it current.
5. Include a professional summary.
The summary section on LinkedIn should read like the beginning of a cover letter. This is the space where you explain to potential clients what skill sets you may have and how capable you are at your job. This section should your 30-second elevator pitch into what you do and how you do it.
Read More: Top 5 Financial Advisor Marketing Tips


6. Include relevant present and past experiences.
Your current experience should be 3 to 10 bullet points about what your company does and your day to day job functions. This lets people see how you would be of service to them. Past experiences are important to include too but only if they are relevant to your skill set. Also a good rule of thumb is to only go back the last 10 years. If you have changed professions within the same company create a new role, don't just update the title of your previous one.
7. Skills, Endorsements & Recommendations
LinkedIn allows for your connections to "endorse" you for skills you might have, for instance if you are in the retirement planning business you could be endorsed for retirement planning. You may also be recommended through LinkedIn, by people you have worked with in the past or currently. This is a great tool because it shows potential clients real life examples and testimonies to your business. Be sure to add the skills section to your profile so others can endorse you and don't be afraid to ask for recommendations, especially from your best clients.
8. Join groups and follow pages.
Groups and pages are great tools to utilize on LinkedIn. These will broaden your network and let you connect with more people. You will also have an opportunity to share content on these pages with could lead to more traffic to your page. This about the types of clients you are looking to acquire and join groups where you think you may find them. the more connection points the better when it comes time for that prospect to seek out an advisor.
LinkedIn is a powerful business tool for you to find clients and more importantly for clients to find you. Often times if a client or prospect is searching for you or your business on-line, LinkedIn will be the first site to appear. If you don't have a website for your practice that's ok, create a LinkedIn company page, connect it to your personal page and follow these best practices. If you do have a company website be sure to link to it from both your personal and company LinkedIn pages to generate an increase in traffic, and link to your LinkedIn pages on your website for the same reason. Solidifying your social presence online is your first step to becoming a great digital marketer!