How do you approach the conversation of fixed or indexed annuities with your clients? Annuities may seem like an obvious investment when you're thinking about retirement income for a sharp financial advisor like yourself; however for the average client an annuity may seem like a financial abyss, or worse a scam. As an advisor it is your responsibility to educate your clients on the outstanding benefits a fixed or indexed annuity can offer. Use this checklist in your next client meeting and you may be surprised by the impact concise education can have on your close.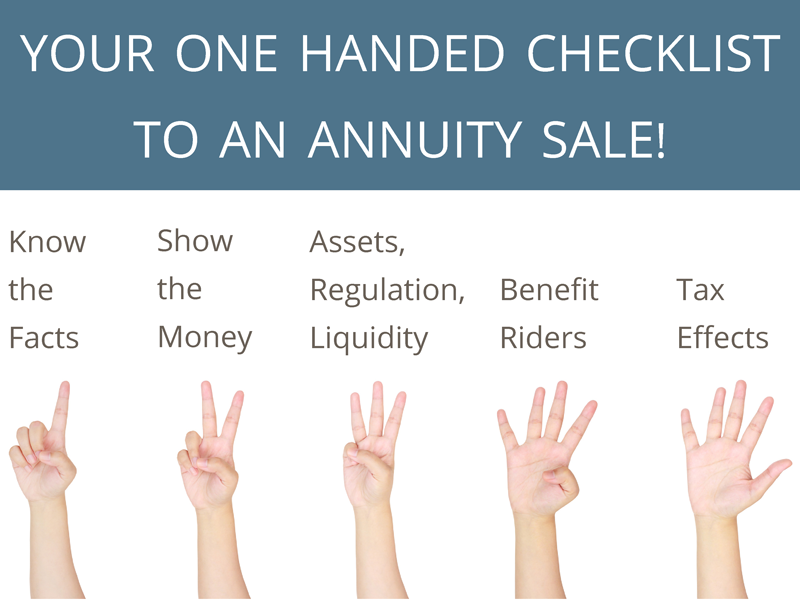 The National Foundation for Credit Counseling reports nearly 30% of households save nothing for retirement.


That means up to 70% of households have some kind of retirement savings and could benefit from taking a closer look at an annuity. All they are waiting for is you to educate them. The more a client knows and understands about a product, the more willing they are to purchase and recommend it to others. Use this five point checklist to educate your client and improve your annuity sales strategy.
1. Know the Facts
Educate your client on the carrier strength of the product you are recommending. Use industry reports and recognized credit rating organizations like the A.M. Best, Standard & Poor's, Moody's and Fitch Ratings to validate the company. Discuss the firm's financial history to show the financial stability of the firm. Break down any client skepticism that may exist with facts and statistics. Numbers are often looked at as more concrete than just an explanation. National organizations can also relieve any doubts that may exist for the client. Inform them of the National Organization of Life & Health Insurance Guaranty Associations (NOLHGA) and their role in protecting policyholders.
For More: [Video Blog] DOL Ruling Recorded Webinar
2. Show Them the Money
Explain the financial benefits of annuities vs. other retirement savings vehicles. Know your client's risk tolerance before doing so to avoid off putting them. Reference particular products with their name and present actual side-by-side case study examples to make the product more real to the buyer. This will help them to envision their own outcome with the product, which moves them close to the purchase phase. Clients want to know the facts so spend time going over the various interest rates, caps, fees, participation rates and spreads. Explain the history of these numbers to make the client fully aware of how it could change in the future. Be sure to show them the upside and downside so they do not feel you are only showing one side of the story.
Read More: Tactics Successful Financial Advisors Use to Motivate the Sale
3. Assets, Regulation and Liquidity Provision
Now that you've discussed the difference in fixed and index annuity market value adjustments, interest rates and penalties it's time to educate on how annuities offer guaranteed income streams and downside protection. A frequent misconception with clients is the money in an annuity is locked in and untouchable. Diminish this misunderstanding and inform them on the liquidity privileges and when they are able to access funds with and without penalties. Carriers have evolved their products knowing that life happens and that customers may need to withdrawal at various times of their lives for perhaps a wedding, new home or other event.
4. Benefit Riders
Introduce clients to options like the living benefit rider and chronic illness rider. Explain how this added value rider acts as a ledger value versus how their income rider and accumulation works. The more comfortable the client is with the details and features, the more they are apt to purchase the product. Would you buy a television from an ad that just promoted the type of TV or the one that described its large CRT TV size and sharper LED picture? Most likely the one that explains the features.
5.The Tax Effects
Tax-deferred retirement accounts are a big draw to clients and is part of the appeal of annuities. But not all annuities are tax-differed. Educate your clients on the different types of annuities including non-qualified annuities. Be sure to explain the last in, first out (LIFO) rule so they can avoid a large tax implication. Make sure to highlight the advantages of annuities for tax and estate planning purposes.
Divulging all the pertinent details of annuities will gain you respect from the client, educate them on the purpose as well as the financial opportunities. For more on this topic read InsuranceNewsNet's Five-Point Checklist Ensures Satisfied Annuity Buyers.
Learn More: Tax Advantages of Annuities
We Want To Hear From You!
Tell us how you explain annuities? Do your clients have the same reaction to your explanation?