An experienced financial professional should keep their clients informed of the many different roles life insurance can play to meet financial, retirement, and protection needs. The American Taxpayer Relief Act of 2012 (ATRA) permanently increased the federal estate tax exemption. This increased and indexed exemption may reduce and possibly eliminate the need for life insurance to pay estate taxes on a case by case basis.
The 2016 federal exemption is now indexed to $5,450,000 for an individual and $10,900,000 for a married couple. The federal estate tax rate is a flat 40% for taxable estates above the exemption amount. Many clients who may have been exposed to federal estate taxes in the past may no longer need to worry about federal estate taxes in the future because of this very high exemption. Very, very few individuals and couples have a net worth in excess of these federal exemption amounts. Only the super-wealthy still face the daunting task of paying federal estate taxes.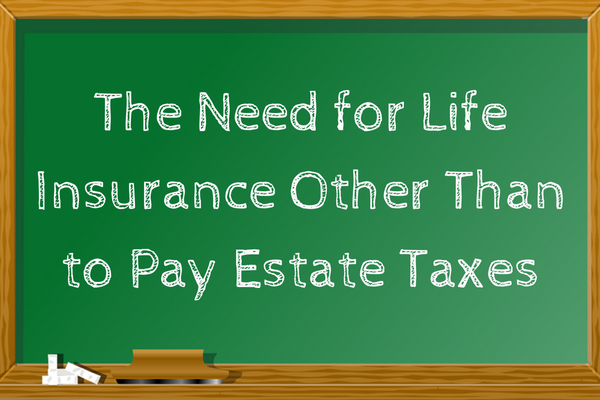 The federal exemption was fixed at only $600,000 for many years in the late 1980s and into the late 1990s with a top estate tax rate of 55%. The exemption rose during the 2000s from $1,000,000 to $1,500,000 to $2,000,000 and to $3,500,000 by 2009. Eventually, Congress and President were able to settle on an indexed federal exemption of $5,000,000 in the American Taxpayer Relief Act of 2012.
Despite the decline of the market for life insurance to offset estate taxes over the last decade, there are many reasons why your clients should own life insurance. These clients generally have a net worth of between $1,000,000 and $5,450,000 as an individual and between $2,000,000 and $10,900,000 as a married couple. In other words, those individuals and married couples who don't have to worry about federal estate taxes anymore.
Read: 6 Steps to Building a Successful Life Insurance Sales Strategy
Take a look at the following list of 15 reasons to own life insurance other than paying for federal estate taxes:
Creating a guaranteed estate for their heirs at a very competitive pre-tax equivalent internal rate of return (IRR) on the death proceeds


Paying final expenses, attorney's fees, accounting fees, real estate commissions, and administration costs of the insured's estate


Paying off large loans, credit cards, mortgages, and debts of the insured on valuable real estate properties and business interests


Paying income taxes on "income in respect of decedent" (IRD) for a beneficiary on qualified retirement plans, IRAs, and the gain amount on non-qualified annuities


Maintaining the standard of living for a surviving spouse and family. In other words, income protection to keep a family "in their own world".


Equalizing inheritances in situations where an adult child may inherit an ownership interest in a family business and the other siblings may not


Providing funds for a surviving spouse who is not the parent of the insured's children to minimize conflicts in second marriage cases


Paying state death taxes for the insured's estate in those 19 states that still levy state estate or inheritance taxes


Replacing for the insured's heirs liquid assets and property that have been donated to charitable organizations


Funding buy sell agreements where the insured owns a share interest in a business entity with another person


Funding non-qualified deferred compensation benefits or non-qualified executive bonus plans for business owners and key executives


Protecting the future profitability of a business with key person insurance owned by the business or key person insurance to pay off business loans


Buying life insurance in a defined benefit or profit sharing plan to guarantee a retirement fund for the family of a deceased participant who dies too soon


Buying life insurance with an LTC rider to provide tax free coverage for lifetime extended care costs in addition to a tax free death benefit


Funding a personal supplementary retirement program where tax free (FIFO) withdrawals and loans can be made from policy cash values
Of course, all the insurance needs listed above can be satisfied with term insurance, whole life, no-lapse universal life, indexed universal life, and current assumption universal life depending on the specific needs, financial time horizon, and risk tolerance of the policy owner.
BSMG is able to provide access to multiple carriers to fund all the needs described above with all the types of insurance listed here. We have selling agreements with over 20 major life insurance carriers with a wide array of products to design customized solutions for your clients' needs. And don't worry, we are still leaders in providing competitive no-lapse universal life (UL) and no-lapse survivorship universal life (SUL) for those special clients who have taxable estates well in excess of the federal estate tax exemption amounts.