Did you know the first summer Olympics were hosted 120 years ago in Greece? That means, for the last 120 years, athletes have been working their hardest to become the best in their sport. With the Olympics kicking off this week, we wanted to look into some ways that you can become a gold medal financial advisor for your clients! Check out the top 5 ways to win the gold and wow your clients below.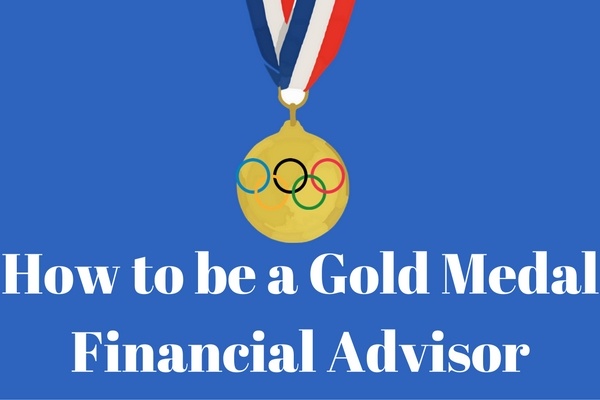 Read More: 10 of the Best Financial Advisor Tools
Do you watch the Olympics? If you do, you've seen the hurdles (literally) that the athletes have to overcome in order to take home the gold. As we all know, it takes a lot of hard work and dedication to get that gold medal. You should be applying the same focus to your business, by being dedicated to doing the good and right thing for your clients.
Top 5 Ways to Take Home the Gold as Financial Advisors
Strong Client Relationships- One of the best ways to maintain a strong relationship with your clients is by knowing what is going on in their lives. By sending out holiday and birthday cards you create a bond beyond simply doing business together. This is a great way to build a personal rapport. Embracing social media is a great way to actively stay in touch with what is going on in your clients lives. If a new baby is born, a house is purchased, or a child graduates, make sure to send along notes of congratulations for these important life events. If your clients know that you care about them and their families they are much more likely to refer you to others and remain a valued client.


Stay Informed- Send a note or make a phone call to your clients whenever important industry events or developments occur. Things like a carrier exiting the market are a great example of this. Your clients may not know the implications of these events, and if they have heard about them in the news they may be concerned. This will show that you're not only on top of current events but are also keeping a watchful eye on their finances.

Read More: Best Practices For A Financial Advisors LinkedIn Page


Quick Response Time- When your clients reach out to you, be sure to get back to them right away, even if it is just to say you'll look into it and be in touch. This will provide reassurance to them and remind them that they are your priority. Letting voicemails or emails sink to the bottom of your inbox will make clients feel unimportant and could turn them away to another advisor. When problems do arise, make sure that you keep them informed every step of the way. Try to work through the issue as quickly and thoroughly as possible.


Open Communication- Keeping the lines of communication open is paramount to providing gold medal service to your clients. By communicating with them on a consistent basis there is less room for error and for details to be overlooked. Make sure you have an open door policy and that your clients are aware of your availability.


Go Above and Beyond- Anyone can run a 1600 on the track but only one person can do it well enough to win the gold. This is the person that goes above and beyond in their training to make sure that they are set up for success. This will look different for everyone, but you'll know when your truly going the extra mile. Each of your clients should feel as though they are your top priority.
If you take these 5 key actions into consideration everyday, your sure to become a gold medal financial advisor.