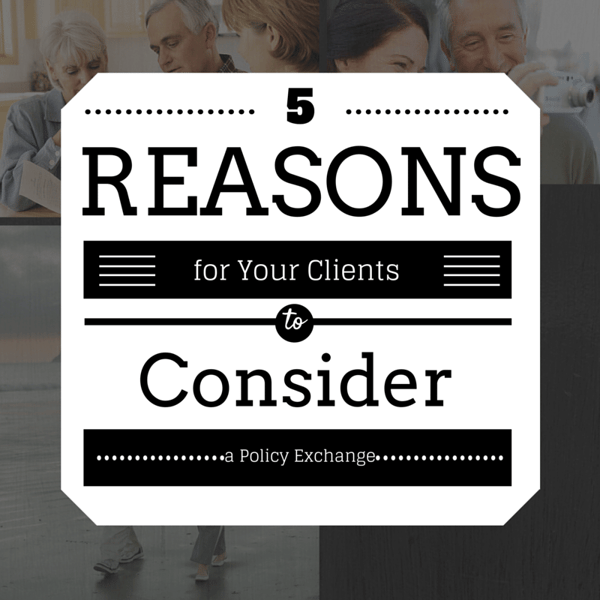 A policy exchange (also known as a Section 1035 Exchange) is the process of directly transferring accumulated funds in a life insurance policy for another life insurance policy without creating a taxable event.
Advanced Sales Article: Section 1035 Exchange of a Life Insurance Policy With Loans
The Benefits of a Policy Exchange
It allows for the exchange of outdated contracts for more current and efficient contracts.
New policies may offer optional riders that can be added to the policies which were previously unavailable. These riders may better address your clients current needs, such as providing access to additional funds to help with the costs of permanent or chronic illness.
The exchange preserves the original policy's tax basis and defers recognition of gain for federal income tax purposes.
Most insurers acknowledge Section 1035 as a tax-free exchange and do not send a Form 1099 to the IRS. Each policy exchange situation is different.
Read: 5 Important Guidelines for a Successful Section 1035 Exchange


Possible Reasons to Exchange a Policy
Here are five reasons for clients to consider a policy exchange:
Secondary guarantees and no-lapse premium guarantees: If a newer policy design feature includes the ability to guarantee the death benefit based on a fixed premium structure. It may also provide the flexibility to keep the policy in-force should a premium payment be skipped.


Escalating premiums to keep policy in-force: If low-interest rates have resulted in lower dividends used to offset the premium charges. Policies that have matured may still be in force at a higher premium rate.


Lower mortality tables may equal lower costs: Many new policies have lower mortality expenses than existing policies.


Need for living benefits: Your client's concerns can shift from income replacement to outliving their money and protecting their wealth from the costs of long term care. You may need to look at policies that have other living options with your clients.


The financial health of insurer: Always check the most recent ratings and ratings criteria of any insurance company you are considering for your client.
It's always a good idea to review your client's situation at least every 2 years, or sooner when a significant life event occurs, such as a birth of a child. A life insurance Policy Review offers an objective way to make sure your insurance coverage is appropriate for your client's needs and can be an integral part of fulfilling the necessary due diligence required on the part of the advisor.

Want more information on Policy Review?
Together with BSMG, we can help both individual and institutional trustees perform a Policy Review to ensure a policy is financially suitable and meets the current needs of the trust and the beneficiaries. Contact us today at info@bsmg.net.