Market Volatility, Bond Market Risk, Low Interest Rates, Portfolio Depletion and Unpredictability.

These are the main reasons clients are skeptical of Annuities. So how can you, the advisor or financial professional, turn the negative into a positive for your clients.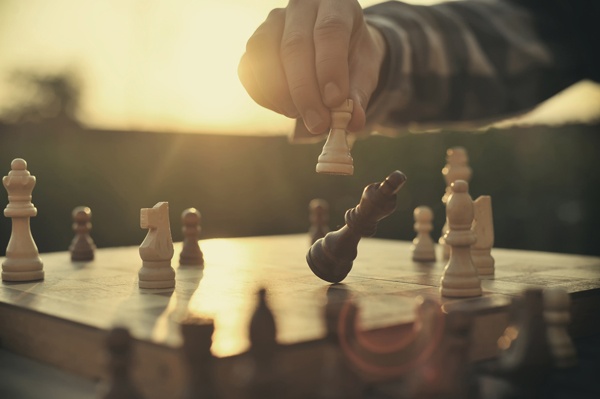 Since 2000, consumers have borne witness to the S&P 500® Index dropping approximately 50%, two times.1 The volatility in 2008 was unlike anything ever recorded with the Volatility Index (VIX), often referred to as the "investor fear gauge," reaching 89.53 in October, a number representing a quadrupled expectation of market volatility.2
At the same time, interest rates, as measured by the 10-year Treasury bond yield, have continued their three-decade decline since a peak of almost 16% in 1981.3 As of May 1st 2015 the 10-year treasury was 2.12%.4 Additionally, the current average rate on a five-year jumbo certificate of deposit (CD) is 0.93%.5
The timing of this mixture of volatility and low rates could not be worse. The 78 million-strong baby boomer population began hitting age 65 in 2011, and will continue to do so for the next 15 years, to the tune of almost 10,000 per day.6
Imagine the questions that might be going through the mind of someone retiring today, regardless of the amount of money they have saved: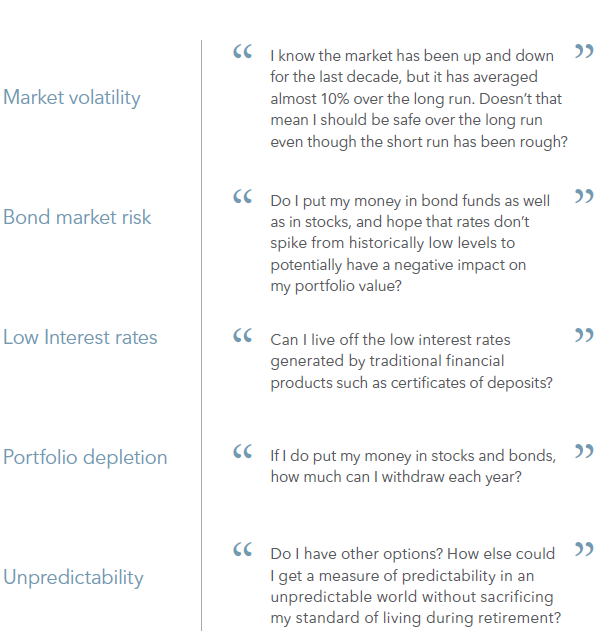 "Yellow Pad" it With Your Clients in 6 Easy Steps - Read the BSMG Retirement Planning Playbook


Clearly people have many questions and misconceptions, especially given the recent turmoil, low interest rates and perceived risk in the bond market. These hypothetical questions are merely the tip of the iceberg. Based on these questions and concerns it's clear that there's never been a better time to fully understand the power of Fixed or Fixed Indexed Annuities.
Helping Clients Adapt to a Changing Landscape Using Fixed Indexed Annuities (FIAs)
Why should you introduce the idea of including a fixed index annuity to your clients as part of their overall portfolio? What are the benefits you should communicate to your client to help dispel their pre-conceived perceptions about FIAs?
Clients who incorporate a FIA into their overall retirement portfolio will gain:
opportunities for more predictable growth

the ability to create guaranteed income for life

protection of principal

protection from Index declines and the impact of interest rate risk, and

tax deferral until withdrawals or income payments begin.
Check out BSMG's Current Annuity Rates & Resources
Will Clients Contemplating Retirement. . . "Retire" You?
The decade just preceding retirement is a prime time for clients to suddenly switch financial professionals. Even though you've been with a client through their many life milestones, you may find them now looking for advice in other directions. If you cannot effectively ease their concerns and communicate new ideas and opportunities, you may lose them.

Now's the time to work toward cementing your relationship with clients for whom retirement is looming.

Strengthening your connection by discussing the worries your clients might have about retirement.

Make sure you set up consistent communication as they approach the next chapter of their lives.

Help your clients grasp the benefits of working, planning, and saving.

Encourage them to talk with a spouse, partner or others about their dreams and expectations for retirement.

Make sure they understand fully the often-complex options you introduce.

Help them determine the cash flow they need for the life they want.

Show them how their assets can be used to turn retirement into a Great Adventure.
END NOTES:
S&P 500®, finance.yahoo.com, accessed 10/03/13, time periods 03/20/2000 - 09/30/2002 (48% drop) and 10/08/2007 - 03/02/2009 (56% drop)

CBOE Interest Rate 10-Year T-No, finance.yahoo.com, 10-year bond 15.68 Sept 21, 1981, accessed 10/03/13

http://www.treasury.gov/resource-center/data-chart-center/interest-rates/Pages/TextView.aspx?data=yield

, 5/7/15

bankrate.com, 05/07/15

AARP, June 2013
Data and research for this article is brought to you by BSMG in partnership with Genworth Financial, Inc. based on 2014 publication of Rethinking Retirement Income.