WHO ARE AFFLUENT MILLENNIALS?
A recent research study by LinkedIn revealed that Affluent Millennials have a very bright financial future. This "client persona" is not to be ignored by today's financial services provider. These potential prospects are everywhere; in fact, there are 15.5 million of these Affluent Millennials in the United States alone and are vital to the United States economy, spending $2.0 trillion annually across a range of products and services.1
WHY ARE THEY RELEVANT?
This generation as a whole, is poised to build wealth on their own, they will also be on the receiving end of a massive generational transfer of at least $59 trillion in personal wealth over the next several years.1
As their incomes and investable assets grow, this powerful generation will command major changes within the finance industry. One thing is for sure:
The firms that work now to understand Affluent Millennials and proactively target this new persona with products, services, content and communication that appeal to their unique preferences, challenges and dreams will succeed.
KEY FINDINGS
#1: AFFLUENT MILLENNIALS WILL SACRIFICE NOW FOR THE FUTURE
Affluent Millennials are disciplined and future-oriented — 72% agree that the sacrifices they make now will pay off in the future.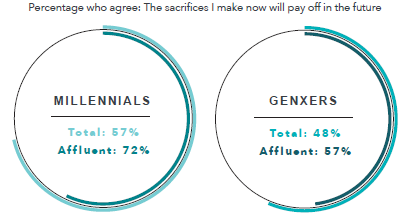 #2: AFFLUENT MILLENNIALS SET AMBITIOUS GOALS
Affluent Millennials are also three times more likely to dream of starting their own business. And it appears as though many have already acted on this goal, with 35% of Affluent Millennials in possession of a business loan.

#3: DIVERSIFYING INCOME SOURCES
Where are Affluent Millennials generating their income outside employment wages? Affluent Millennials are especially likely to be building their wealth through investments and income properties, as well as gaining assets through inheritance.
Read: 4 Ways to Combat Millennial Misconceptions About the Cost of Term Life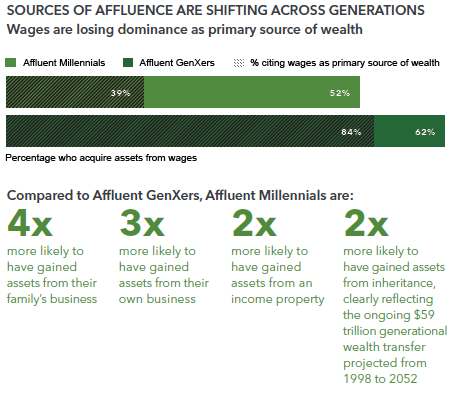 #4: TAKING OWNERSHIP OF FINANCIAL DECISIONS
When it comes to managing their finances, it's clear that Affluent Millennials want more control.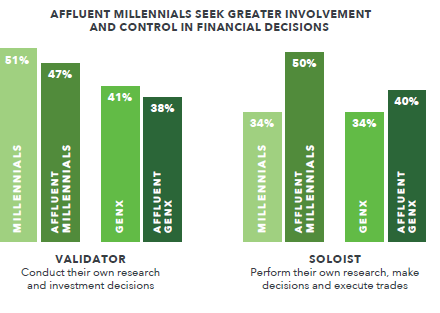 #5: AFFLUENT MILLENNIALS CONSIDER FINANCIAL ADVISORS A MUST-HAVE
Although they want to take the helm when it comes to their finances, Affluent Millennials don't want to navigate these waters alone. Today, 87% of Affluent Millennials consider financial advisors important, with 37% calling them a "must-have."

HOW TO BUILD A RAPPORT WITH AFFLUENT MILLENIALS
When evaluating a potential financial services provider, all groups are likely to care about things like low fees and data privacy, but Affluent Millennials are unique in placing importance on the following factors:
Social:
Does the company have a strong social media presence?
What content is available from the company via social networks?
Is it possible to communicate with the company through social media?
Relationship:
Do I already have a relationship with this company?
Does this company already have my business in some way or another?
Have I worked with this company in the past?
Influence:
Do any of my family members use this company?
Do my family members have positive or negative feelings about the brand?
Would my family recommend other companies over this one?
Social Presence:
Does the company have a positive buzz online?
How does my personal social network feel about this company?
How has the company influenced the industry?
Purpose:
Does the company have a social mission that I agree with?
Do the company's values seem to align with my own?
Do I care about the company's vision?
Read: 7 Ways Financial Advisors Can Acquire Prospective Clients
There are dramatic changes ahead for United States financial services providers. For the advisors that acknowledge this shift of wealth and are proactive in engaging this segment, there will be a solid foundation to build the future of their business.
2015 United States Affluent Millenial Research Study, LinkedIn Download the Study
1. Affluent Population Expands in Size, Spending Power and Marketplace Importance, September 2014.
http://www.ipsos-na.com/news-polls/pressrelease.aspx?id=6600