The Millennial Generation represents both a challenge and opportunity for life insurance professionals. Millennials are adults who were born between 1980 and 2000. They are expected to account for more than 75 million Americans by the end of 2015 and by 2025 they will account for 75% of the workforce.
One interesting fact that financial professionals should take note of is that, according to the 2015 LIMRA Insurance Barometer Study, Millennials overestimate the cost of term life policies by about 213% on average. We've found that there are four major ways advisors and insurance professionals can address this misconception about term life insurance and help improve their sales.

Related: Have Your Clients Said No to Life Insurance
1) Term Life Insurance Is Affordable!
Emphasize the affordability of term life insurance by comparing it to a recurring product or service that Millennials already pay for. For Example;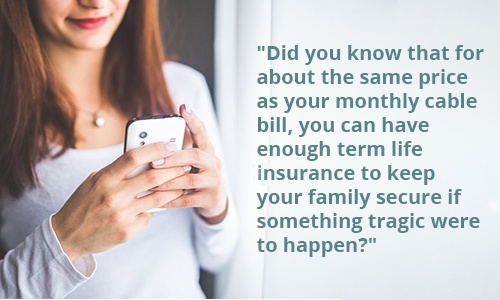 Another way to emphasize the affordability is to illustrate how term life is different from whole life products. Unlike whole life, term insurance does not require the policyholder to pay enough money to cover the death benefit. Instead, the potential death benefit is covered by spreading the risk out among other policies and policyholders. Spreading out the financial risk among many policies makes it much more affordable for individual policyholders to buy term life insurance.
Although it costs less than whole life, term insurance still provides the same level of protection that can potentially help pay off a mortgage, student loans, auto loans, credit cards, cover college tuition, and sustain a family's standard of living.
2) Offers A Plethora of Options
Term life insurance policies are available in many varieties that can serve many purposes. It's a good idea to teach Millennials about the different types, what they do and how affordable they are to buy.
Here's a good example:
A client who owns a home is wary of the cost of buying life insurance. In such a case, you can show how a laddered coverage strategy may be the best option. Explain how the death benefit decreases over time to reflect the decreased debt owed as Millennials pay down their home loan over the years. As the amount of the death benefit decreases, so does the premium required to maintain the policy.
3) Policies Can Be Easy to Renew or Extend
Many term life insurance policies are also renewable and can be extended. Some policies have guaranteed renewable provisions that enable policyholders to simply sign up for another term. As long as the policyholder is in the same relative health, there might not be a health exam requirement to renew, either.
Some policies might also offer guaranteed premiums so that the policyholder knows in advance exactly what the cost would be to renew the existing term life insurance policy. In some cases, policyholders can also extend their term life insurance. If they take out a second mortgage, they can apply for an extension of an existing term life insurance policy and ensure they are covered for the additional mortgage debt.
4) Some Term Policies are Convertible
Another great advantage of some term life insurance is the ability to convert them to whole life insurance. When policyholders of convertible term life plans want to switch their coverage to whole life insurance, they can do so during allotted times by adjusting their premiums to maintain the same coverage level. Convertible term life policies work great for Millennials when they begin having children and want to ensure they leave a financial legacy for their family.
Term life policies are flexible and adaptable to the changing needs of clients and one of the most beneficial types of life insurance they could obtain. It's can be easy to teach Millennials and others about how affordable, accessible, and adaptable term life insurance can be for them. Use these four ideas to get started and see how effective your discussions can become.
Related Post: Become a "Master" of the Term Insurance Marketplace