Key Facts to Help You Understand and Capture Diverse Markets
Looking to find new clients? Here's some things all financial advisors should know about four distinct multicultural groups with rising purchasing power in the US. These 4 fast facts will help you to recognize opportunities that exist within these diverse markets to help you grow your life insurance sales and your business. You can also check out our recent post on selling life insurance to women - Women and Life Insurance: A Force to Be Reckoned With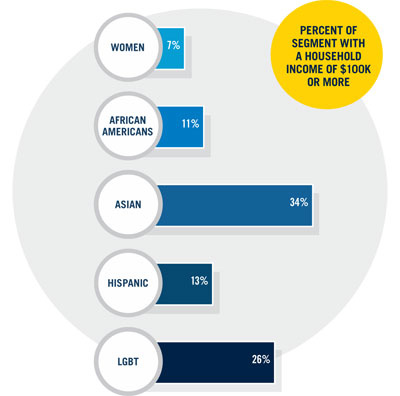 Opportunities exist that can help you grow your business with multicultural markets.
African-Americans buy more life insurance than the general population because they are motivated by the desire to avoid burdening others with burial expenses and leaving an inheritance to their loved ones.

1

African American women are significantly more likely to be decision makers for the household. They are also more likely to carry the financial responsibilities of the household on a single income as they are less likely than the general population to have a spouse or partner.

8 in 10 Asian Americans think life insurance is effective for retirement planning, yet 45% currently have no individual coverage.

2

Framing life insurance as something that can help clients take care of both their children and their parents can provide a more comfortable way into a discussion about life insurance and retirement planning with Asian Americans. And emphasizing legacy planning is also an important and valuable context for the life insurance discussion.

70% of Hispanic consumers agree they need life insurance; only 54% of Hispanics own life insurance.

3

Hispanic Americans are the fastest growing market in the United States and currently represent the largest minority segment in the country— approximately 14.8% of the total U.S. population.

LGBT communities understand the importance of life insurance as more than half (52%) own a life insurance policy.

4

Life insurance is a core product for the LGBT community. Similar to the general U.S. population, ownership is higher among those who have experienced the life events that typically precede the purchase of a policy, such as owning a home, having a long-term partner, and having children.
It's up to you to seize these opportunities.
Want more info? Here's a Fast Facts PDF with more info on all 4 multicultural markets plus a fact sheet on the women's market for life insurance.
1. LIFE Foundation and LIMRA 2011 Insurance Barometer Study.2. Prudential's Asian Americans on the Road to Retirement, March 2010. 3. LIFE Foundation and LIMRA 2011 Insurance Barometer Study.4. Prudential's The LGBT Financial Experience, 2012–13.