Have your clients considered what will happen to their business when they are no longer actively involved? Have you talked to your clients about who will take over - their partner, children, a key employee or competitor? Are they aware of strategies to ensure a fair price if a sale needs to be made quickly?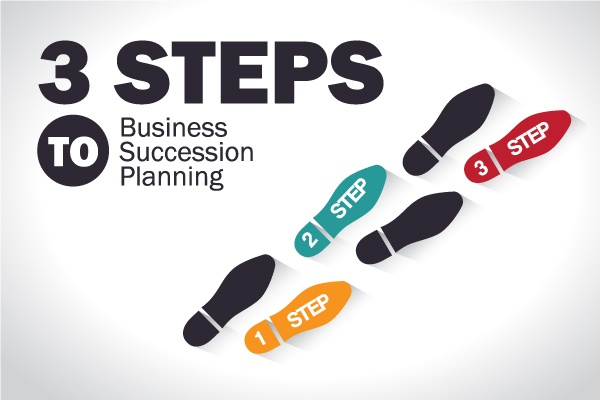 If your client is a successful business owner, growing their business has likely been a huge investment of time, energy and capital. Now, their business is the source of financial well-being, their familes, business partners and employees. They may be looking forward to many prosperous years to come, but what if something happened to their health? What will happen if at some point they choose to retire from the business?
Related: Unilateral 'One-Way' Buy-Sell Agreements for Family Businesses
While it is relatively easy to identify a client's objectives for business succession, it is less obvious how to help the business owner streamline the succession planning process and bring these goals to fruition.
Here are 3 simple steps to help you steer your clients in the right direction.
Step 1:
The first step of business succession planning is to determine what each owner would like to happen to the business in the event an owner becomes disabled, retires or dies.
In an ideal situation, all partners and their beneficiaries would be in agreement concerning future plans for the business. Impress upon your client what will happen if an agreement cannot be reached and implemented. In this case the business may need to be sold quickly for less than market value to pay estate taxes or satisfy beneficiary interests. Even in cases where the business may be saved, the uncertainty surrounding the business' future may result in lost customers and sales. Make them aware that implementing a plan for the succession of their business is the best method to ensure a fair and orderly transition.

Step 2:
The second step of a business succession plan is ensuring that there is funding in place to carry out the owners' wishes.
Do your clients have the cash available to buy out another partner? Do any of the partners have the means to purchase your clients interest?
Clearly, having sufficient cash on hand for this situation would be a huge benefit, but that isn't very common. If inadequate savings are available when needed, borrowing may become a necessity. Unfortunately, borrowing money may be challenging since the lender may question the business' stability following an owner's disability or death.
Fortunately, you can offer your clients a number of strategies for creating potential sources of cash that can fund buy-outs.
Systematically saving may provide the assets needed over time but may be insufficient if disability or death occurs earlier than anticipated.
Installment sales can be another option where the owner or beneficiaries are paid over time for the ownership share. The main drawback of this method is it often forces the departing owner or beneficiaries to rely on the future success of the business for continued payments, even though the recipients no longer have any day-to-day control.
Life insurance is often used to fund business succession plans because of its flexibility. The premiums are typically moderate compared to the total amount of money that would need to be raised if a death did occur. In addition, permanent life insurance policies have a cash value component that may be accessed through withdrawals and loans in the event an owner becomes disabled or retires.
Related: How Successful Insurance Agents Approach Small Business Owners
Step 3:
The third step of business succession planning is to document the plan in writing.
Establishing a Buy-Sell Agreement
A formal business succession plan or buy-sell agreement should serve as a roadmap for the transfer of your clients business to successor owners, helping to assure its ongoing success as well as the financial security of your client and your client's family. It is a written, contractual agreement between the business owners as to how the business interests will be transferred and the conditions which will trigger the transfer. Typically, such triggering events would include the death, permanent disability, bankruptcy or termination of employment of an owner, but additional events may be added to your client's contract if desired.
The goal is to have an orderly transition that will not jeopardize a lifetime of hard work or the financial security of family members, employees and/or business partners.
A Buy-Sell Agreement Is Important If:
There is potential for inexperienced beneficiaries, or outsiders, to become partners.
Your client does not have readily available means to purchase a partners' business interests.
Beneficiaries may demand more than current market value in exchange for their interest.
Long-term financing potential is important. Creditors may view the business as more stable with a business continuation plan in place.
The company's cash flow is insufficient to support a disabled owner.
Your client wants to be assured of a future market for their business by identifying a buyer in advance who may include children, key employees or even competitors.
Want more in depth information on finding the right buy-sell agreement for your client? Read this article from LifeHealthPro, written by our very own Russell Towers, BSMG's Vice President, Business and Estate Planning.
This article summarizes the basic structures of the four types of buy sell agreements: cross purchase agreements, stock redemption (entity plan) agreements, unilateral (one-way) agreements, and cross endorsement agreements.