Here are the three major trends our advisors are experiencing this tax season.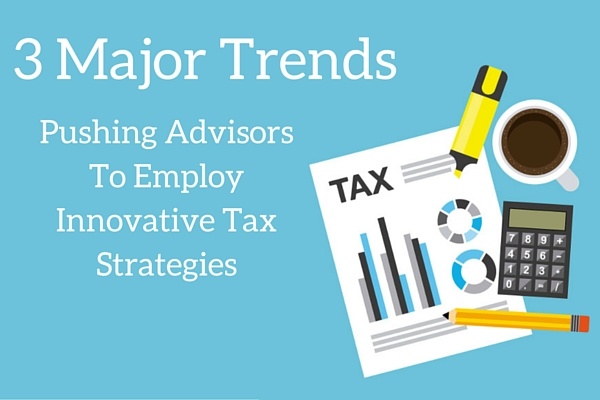 Read More: Which Clients Should You Meet with This Tax Season?
3 Major Trends Pushing Our

Advisors to Employ Innovative Tax Strategies
Changes In Investors' Mindset- The turbulence of the markets in the first decade of the 21st century left many consumers shaken. They are no longer solely interested in pursuing the highest investment returns; they want products and strategies that are set up to deliver positive outcomes.

Baby Boomers Hit Retirement Age- The biggest segment of the population is shifting from needing to accumulate wealth to drawing on their assets for income.


High-Net-Worth Consumers Carry A Heavier Tax Burden- To pay for deficit reduction and expanded health care coverage, income and capital gains taxes have been increased. Even some consumers who might consider themselves squarely middle class have been impacted by these taxes. Insurance products – because of the tax features and benefits they provide – can help financial advisors address these developments.
Read: 10 Reasons Why Life Insurance Is A Viable Asset Class
Here are some solutions that can help you take advantage of these trends to grow your practice.
When used in combination with traditional retirement savings vehicles, insurance products can enable an advisor to more effectively address clients' concerns about taxes at every stage of their lives.
Offer Strategies to Reduce Taxes for Retirees
As a part of a retirement income plan, life insurance policies may not raise many of the tax implications that other investments do. The cash value that builds up in permanent life insurance policies can be used to supplement retirement income if the account owners choose to take policy loans or withdrawals during their retirement years. Life insurance policies offer the potential power of tax deferral that some other investments do as well, but they also offer benefits other vehicles can't match.

Read: Top 6 Tax Advantages of Life Insurance

At every stage of consumers' lives, taxes present a myriad of complex issues that need to be addressed in order to protect their wealth. But when you expand your repertoire by including insurance products to address those needs, you can help clients potentially reduce the impact of taxes, significantly, during their working years and when they are retired. You can also make a big difference in the value of the estate they leave to their families. It offers the potential for a "win/win" situation for you and for your clients.