When your helping your clients prepare for retirement are you making sure they know about the benefits of life insurance? Although this isn't always the easiest conversation to have it is one that is critical to the well being of your clients and their families. While it's nice to think of retirement as sandy beaches or extended getaways, make sure your clients are prepared in the event that something unexpected happens.
Share with them these 10 reasons why it is critical they add life insurance into their retirement planning strategy.

Read More: Hindsight Is 20/20: Why Your Clients Need A Retirement Planning Strategy NOW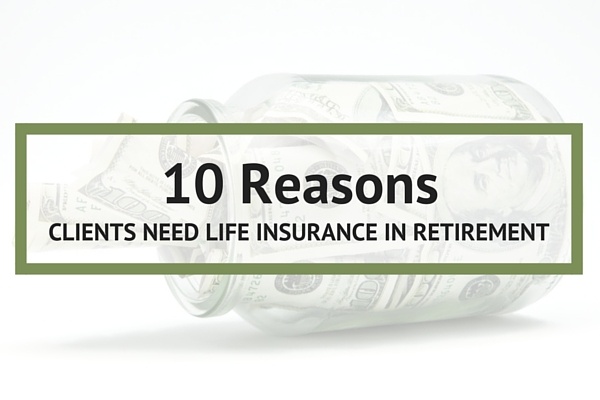 Top 10 Reasons Why Your Clients Need Life Insurance in Retirement Planning
Life insurance can be used to replace all or a part of a pension or Social Security benefits lost in the event of a spouse's death.

Life insurance proceeds can be used to help pay off mortgages or other debts.


Life insurance proceeds can be used to pay all or a portion of estate or inheritance taxes so your client's heirs don't incur these expenses, and can also be used to equalize distribution goals.

Read More: [Video Blog] Using Life Insurance to Preserve Income in Retirement


Many employer-sponsored group life insurance plans are no longer in place when your client retires. An individual life insurance policy may replace group coverage they may lose when they retire.


Policy withdrawals or loans can be used to supplement retirement income.


Many life insurance policies allow that a portion of the proceeds can be accessed if your client becomes terminally ill or confined to a nursing home.


The most important reason that your clients need life insurance in retirement is to ensure that their loved ones are taken care of after they are gone.


Life insurance can be a viable source of retirement income with tax differed accumulation.


Life insurance can help replace income in an event that your client dies while their family still depends on it.


Financial responsibility for others may not retire when your client does, they may be retired but could still be taking care of adult children or aging parents.
Read More: 12 Questions Your Clients Have About Their Retirement Income Strategy
Share this Life Insurance Needs Estimator with your clients to help them find out how much life insurance is enough. This worksheet provides a quick and simple method to estimate the amount of life insurance they will need!